Kangaroo Works - Handcrafted door handles for residential rental brand
93ft commissions wood door handles from a Sheffield wood-turning workshop for the city's latest build-to-rent development, Kangaroo Works. Creating a link between Sheffield's rich industrial history and modern lifestyle development.
Creating an everyday tool that's rooted in place and time
Some objects are so ubiquitous that we hardly even think about them - can you remember the last door handle you touched? But without them our lives would be unworkable. 
A door handle is essentially an everyday tool that's used to turn or push open a door. A simple thing but one which we have relied on in one form or another for thousands of years. 
93ft was tasked with developing one form of door handle design for the Kangaroo Works apartments that tells the story of the former Sheffield edge tool manufacturers. For the young professionals moving to these city centre apartments, experience of using hand tools are likely to be limited, however through conscious and considered design, we are making the link between past and present, old and new. 
Sheffield has a rich industrial and artisanal history and our client was keen for this to be reflected throughout the development, giving residents a sense of connection to their new homes and to the history of the place. 



Working with the masters - using local craftspeople to create bespoke pieces 
Woodware Repetitions is a well-established handcrafted wood-turning business that has been attending to the needs of tool makers in Sheffield and across the UK for many decades. Originally incorporated in 1949, Woodware Repetitions trades from Mowbray Street, Sheffield. Valuing local businesses and the authenticity which comes from such a long history of excellent craftspersonship is important to us at 93ft. 
They specialise in the manufacture of hand tool handles, as well as a wide range of other turned products from furniture legs and components to dowels, ornamental products and architectural elements. They can also accommodate production for bespoke hand-turned products and small batch runs.
All of the range of timbers that Woodware Repetitions use – ash, beech, boxwood, cherry, walnut and many others, including rare hardwoods from bubinga to rosewood – are purchased from certified dealers and sourced ethically from sustainable supplies. The craftspeople at the wood-turning workshop can advise on the best wood to use for an external setting, as well as providing a range of finishes, oils, waxes and stains to ensure longevity. These are bespoke, handcrafted pieces which are made to last a lifetime and beyond. 
The design concept - haft and handle patterns
Haft - generally used for a longer handle of a tool like an axe, or spear. 
Handle - usually related to a shorter handle for a tool like a chisel or knife. 
We wanted to provide a modern day interpretation of traditional tool handle patterns that would both work functionally for their use as door handles, and provide a tangible link to the historical roots of the former 'edge tool' factory Kangaroo Works and to Sheffield as a whole.
Historically, each tool pattern would be ergonomically designed to help the maker produce their craft, resulting in a range of beautiful and functional pieces. Today, we can be inspired by the variety of handle shapes and styles to produce something that feels and looks authentic and adds to the unique narrative of the site. 

We considered various forms:
Ovalised - a chunky, modern aesthetic
The handle is ergonomic, natural and tactile, rotating in the hand when opening and closing the door to give a tangible sensory experience with each use. This form retains a more modern shape but introduces decorative cut-outs into the length of the haft to give it a more vintage tool feel. 
The finish could be either a rough black powder coating like wrought iron or a fine brushed stainless steel. 
Hooped - a more traditional form
This design is based on old chisel handles made by Woodware Repetitions, again bringing that historic, industrial feel to this modern apartment development. The form includes stylistic linear cut details to add visual interest.
Tapered - mid century, angular and curvaceous
This form is reminiscent of a mid-century design from the late 50s. It combines angles and curves to give both a visually attractive design and a distinctive feel as it's used. This design also features stylistic cut details.
Octagonal - dating back to the original Kangaroo Works
The London Octagon Chisel pattern dates back to the time of the original Kangaroo Works factory in Sheffield. The octagonal handle is made in octagonal sections, giving a clean, contemporary feel which is still firmly rooted in the history of the place. 
We and our client were enamoured with the idea of using a pattern which has been around since the time of Kangaroo Works – and still available and used by craftspeople today – to create a hand tool for the modern iteration of Kangaroo Works. 
This is the design we chose.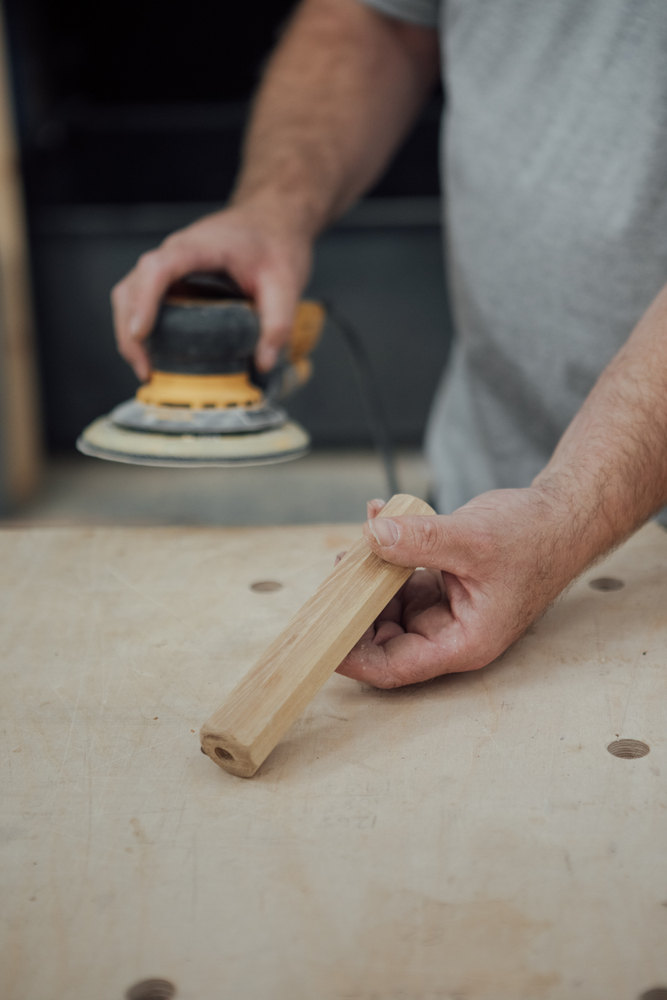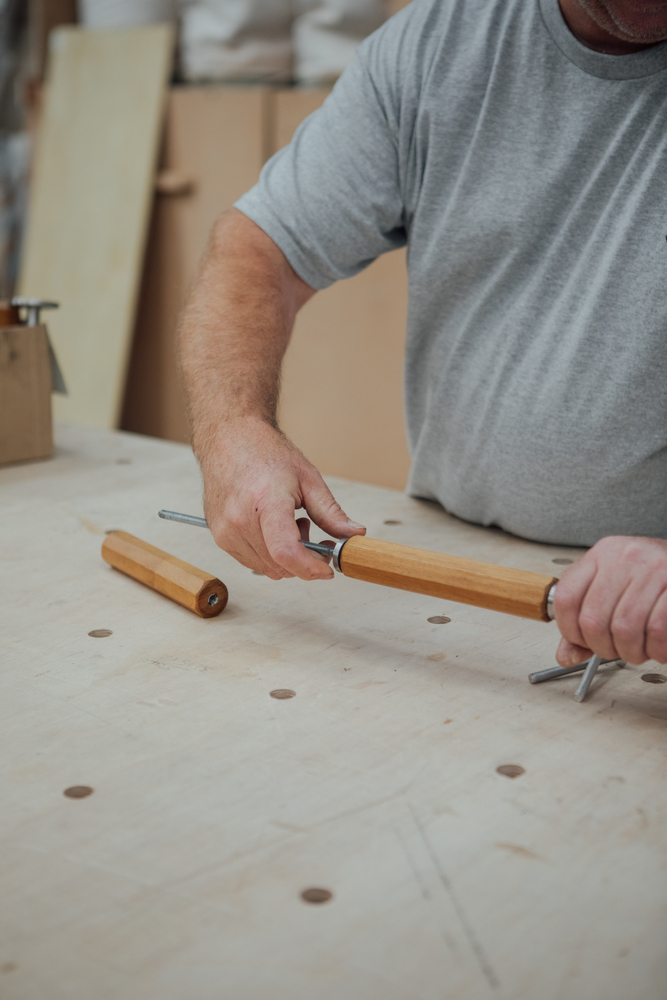 The handles and hafts will be made from sustainably sourced iroko wood, a tough, dense, highly durable wood with a rich coloured grain - perfect for external use such as a door handle on an entrance door. They will be treated to ensure they last while still allowing them to mellow and soften with use, becoming beautifully worn, part of the fabric of the building and inextricably linked to the lives of the people who live there. 


Authenticity in design, function and form
At 93ft we value authenticity above all else - and so do our clients. This project perfectly illustrates the work we do to create meaningful pieces, from branding to interiors, and all the intricate details involved. 
If you'd like to know how we can help with your project: