Heywood Hill - The power of design, print and direct marketing
Heywood Hill have been widely regarded as London's Literary Lighthouse for curious bibliophiles all over the world. 93 helped Heywood Hill to elevate their brand and reach their target audience designing a sales catalogue promoting their extra ordinary modern books.
Creating a printed catalogue for London bookseller Heywood Hill
Heywood Hill have been described as "a cult bookshop for the stylish and curious", and a visit to their HQ on Curzon Street, Mayfair, is a delight for any literary minded person. A Royal Warrant Holder for over 12 years, Heywood Hill offers a markedly different service to other bookstores. Along with using their expertise to suggest individual books, their knowledgeable booksellers create entire libraries and book collections for their clients, exquisitely tailored to the most diverse and niche of interests. From must read books for teens to the insect life of the Amazonian jungle, Heywood Hill curates a collection from anywhere between 200 volumes to upwards of 5,000.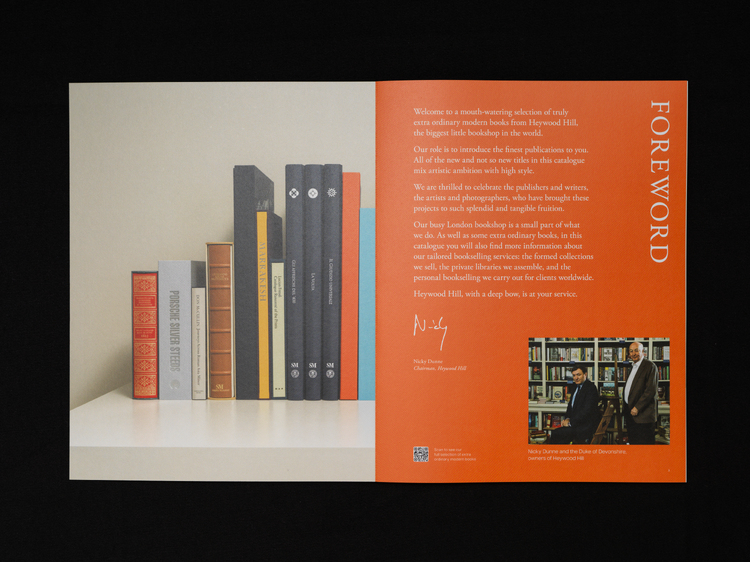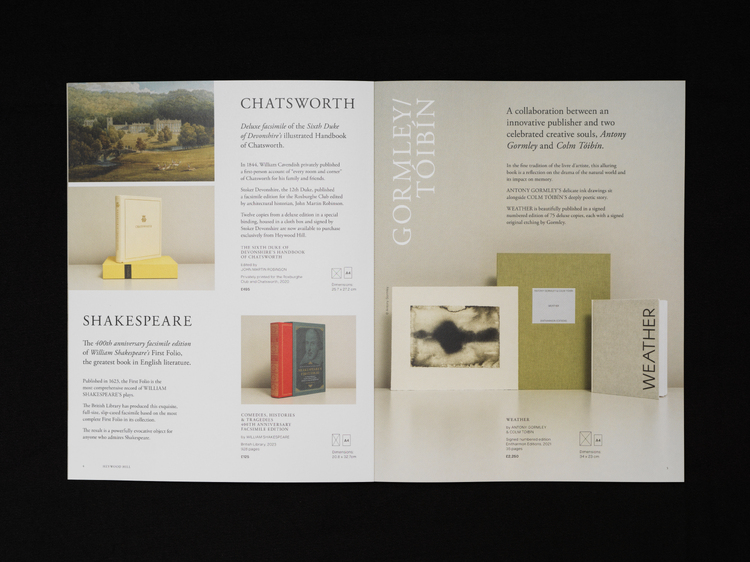 Featured in Vanity Fair, The Times, Architectural Digest (to name a few), named as one of London's best bookshops by Vogue and boasting none other than Nancy Mitford as one of its booksellers, Heywood Hill has built a legendary reputation since its establishment in 1936. 
Heywood Hill approached 93 to create a sales catalogue for their modern books to be sent to select individuals in a beautifully presented printed format.
Their mission to sell good books, old and new, in innovative ways to readers and collectors worldwide meant that the catalogue needed to articulated in a clear and compelling way the Heywood Hill brand and proposition, while also showcasing their specialist collection of extra ordinary modern books.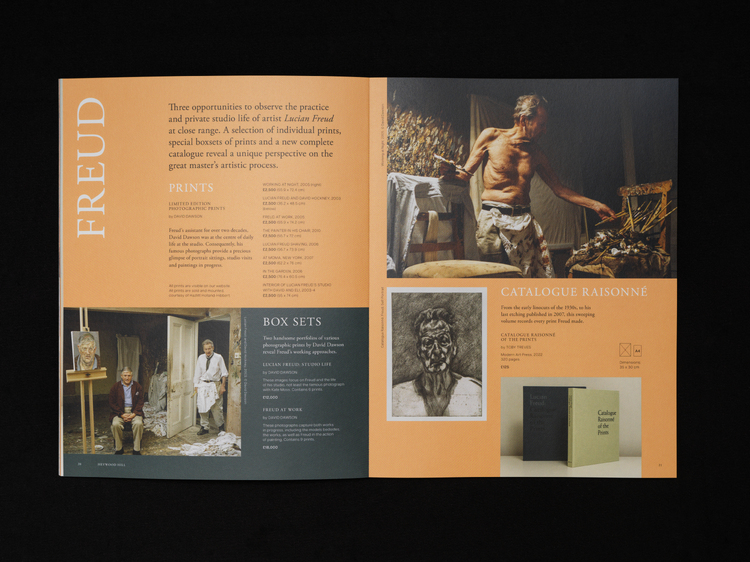 Using a traditional format to stand out from the crowd
Choosing print may seem like a step backwards in this digital age, however books are Heywood Hill's business. Physical format is precisely the reason why their new sales catalogue has the potential for such impact, because many companies are simply not producing high quality printed materials as they used to. With a beautifully designed and impeccably executed collectable book it gives Heywood Hill the ability to grab attention and be remembered where it really matters.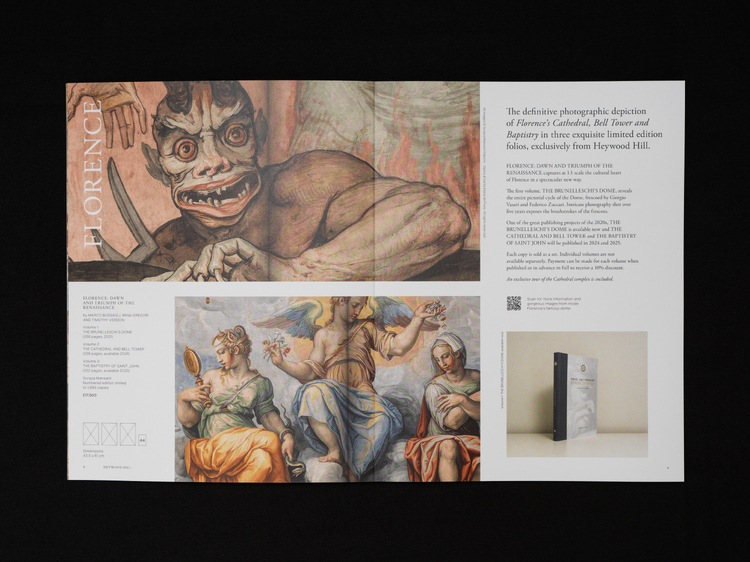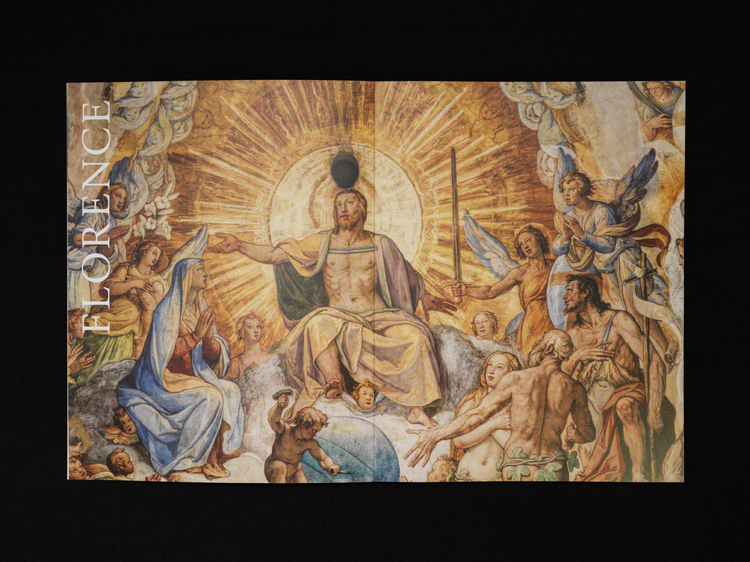 Even though the catalogue is printed, we carefully integrated a series of digital call to actions using customised QR codes, enabling the reader to further their sales journey into the digital realm with opportunity to read and inspect photography in greater detail and magnitude. Adopting this hybrid approach means that customers can enjoy an even richer retail exploration of the brand, its products and services, which has the potential to increase sales and revenue.
In our talks with our client, we rethought how they present their brand and business proposition to their existing audience as well as breaking through to a new one, putting the reasons for patronising a bookseller such as Heywood Hill at the forefront of the text and creating new demand.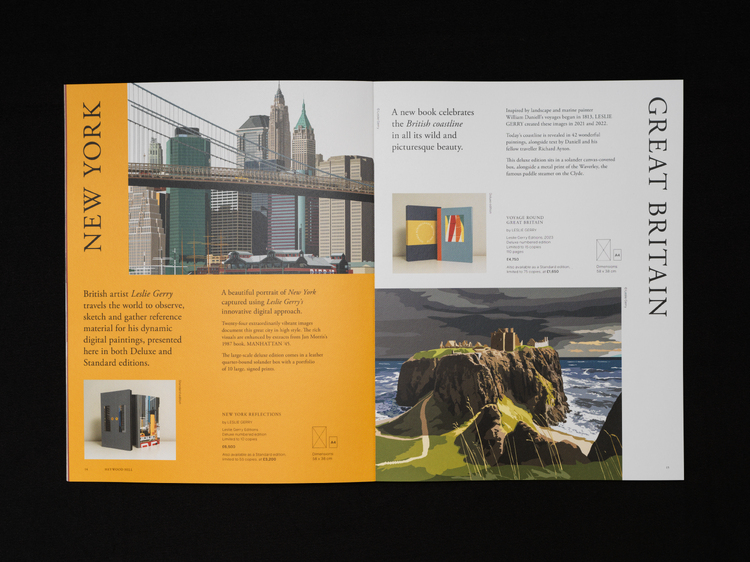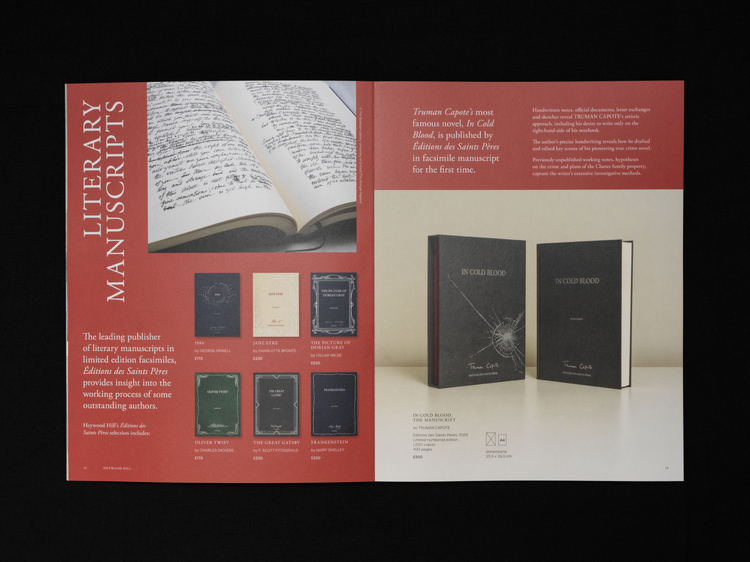 Using product photography to capture an audience
Product photography is one of the arts underpinning the brand work we do for our clients here at 93, and elevating a bookselling brand is no different. Accuracy is very important in the world of book selling, so conveying the scale of the books was crucial, as well as showing the inside of the books as opposed to just the front cover. We worked with still life photographer, Adam Barclay, one of our freelance experts in luxury product photography, to showcase the incredible detail of the art in Florence's Cathedral, Bell Tower and Baptistry, Michelangelo's individual brushstrokes clearly visible in the close ups. 
Adam's skill in taking an inanimate object and giving it life is evident in his compositions of tomes from Porsche and Aston Martin, a beautiful bookcase filled with Penguin Classics, and Truman Capote's, In Cold Blood. These photographs call to those who love, live and breathe books, demanding attention.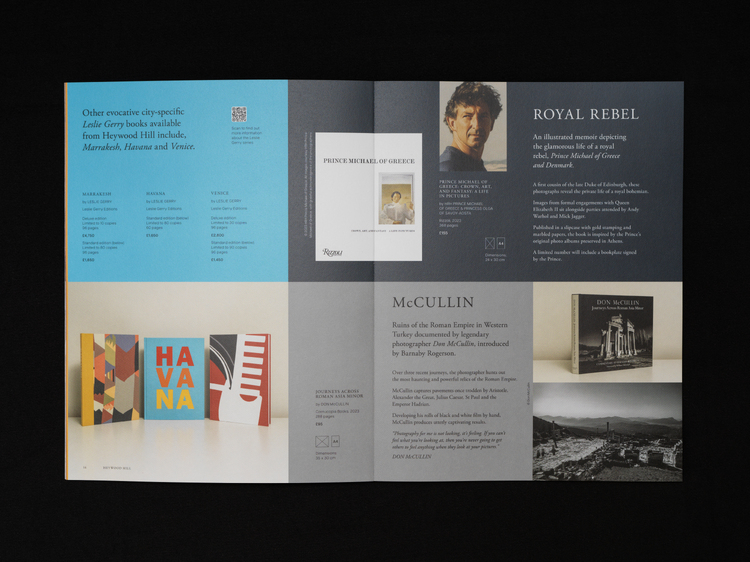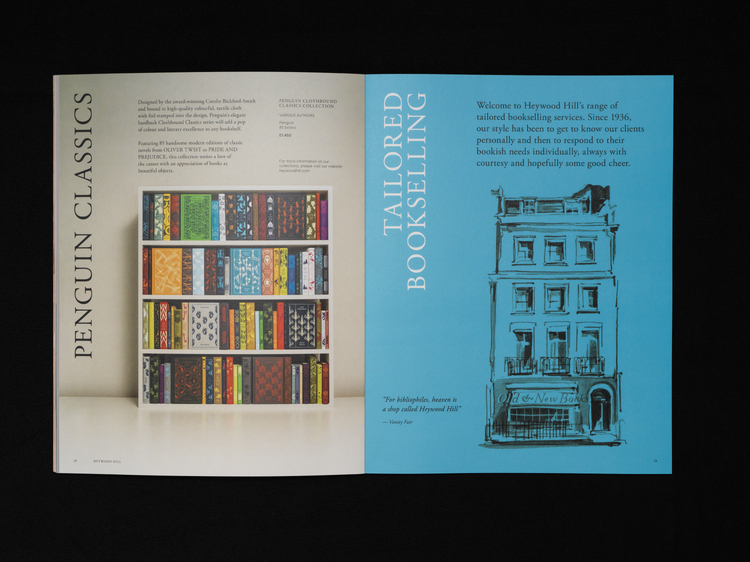 Creating luxury - considering every detail for a truly memorable product
Compelling, intriguing text and inviting photography require a luxurious product to give them the stage they deserve. We chose to print Heywood Hill's modern books catalogue using a lay flat format, on a continuous sheet of paper, so that the photography isn't interrupted by the bend in the spine. Litho printed on Italian firm, Fedrigoni X-Per paper, the catalogue confers quiet luxury, a product which is valuable in itself, and which demands to be handled with care and reverence - perhaps becoming a showpiece as part of a collectable series itself.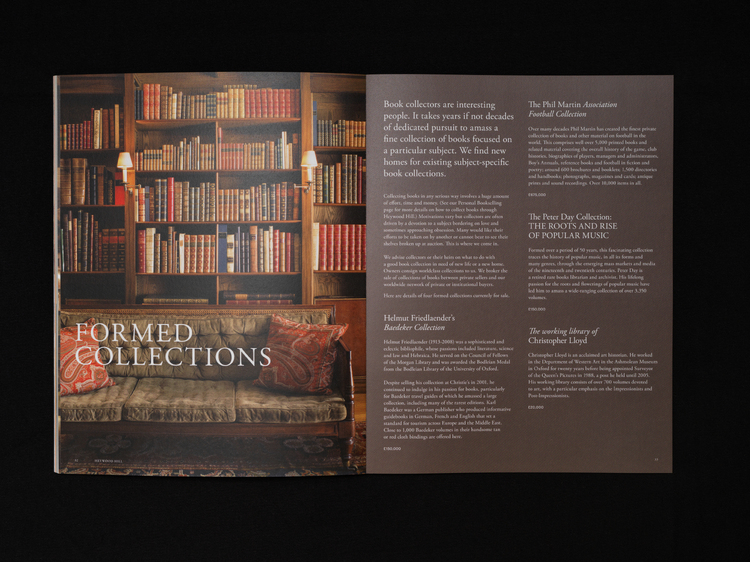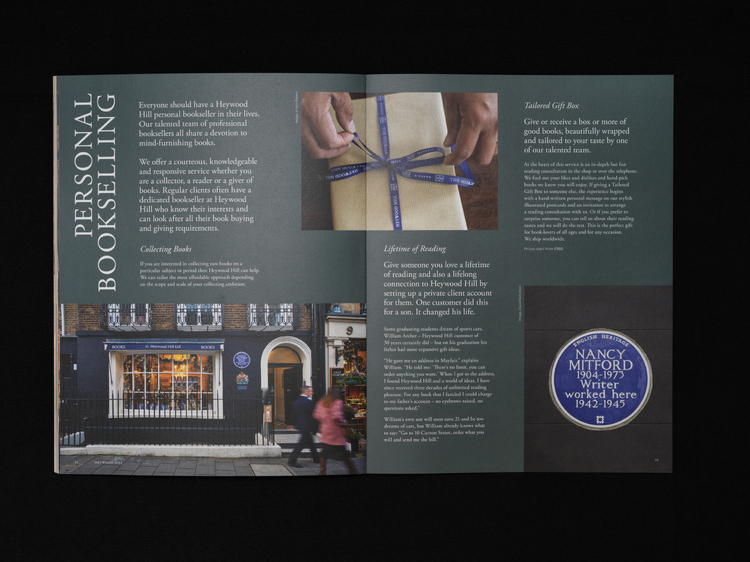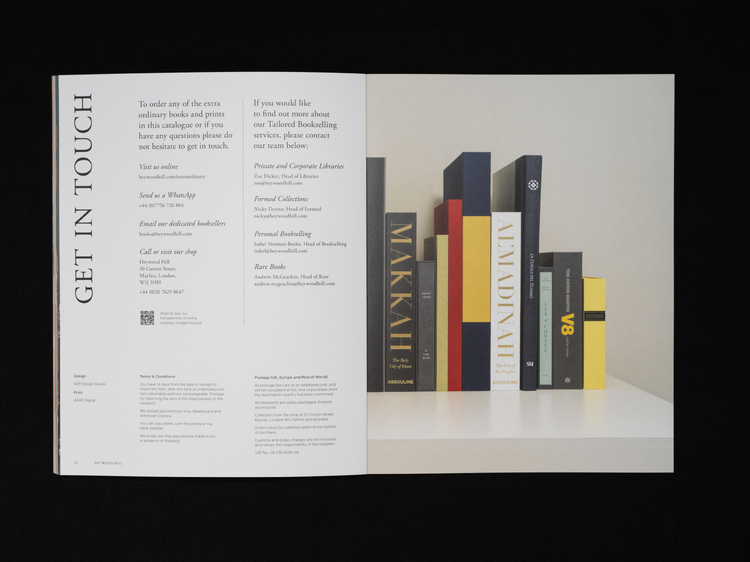 Luxury brands require a more than an excellent proposition. To create luxury they need to stand out, dare to be different, and no detail can go unconsidered. We carefully thought about each and every detail of the project, from the font to the thickness of the paper it is printed on, designing for the power of the outcome so that the resulting product is something truly special.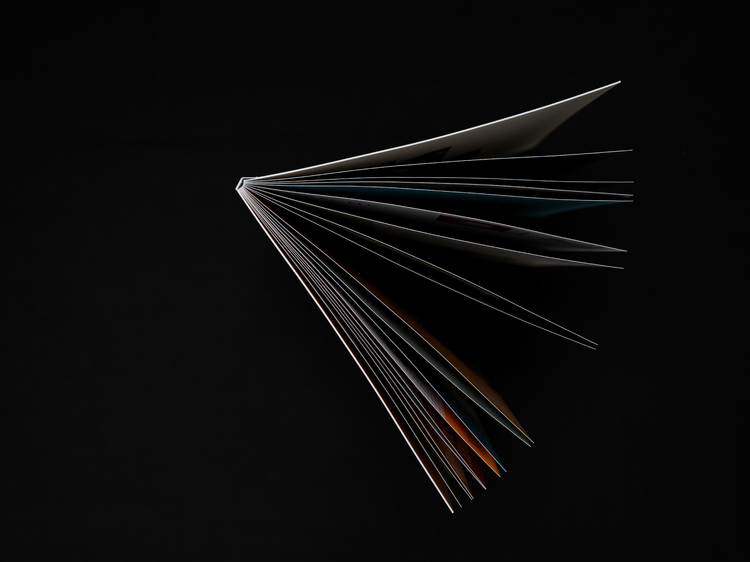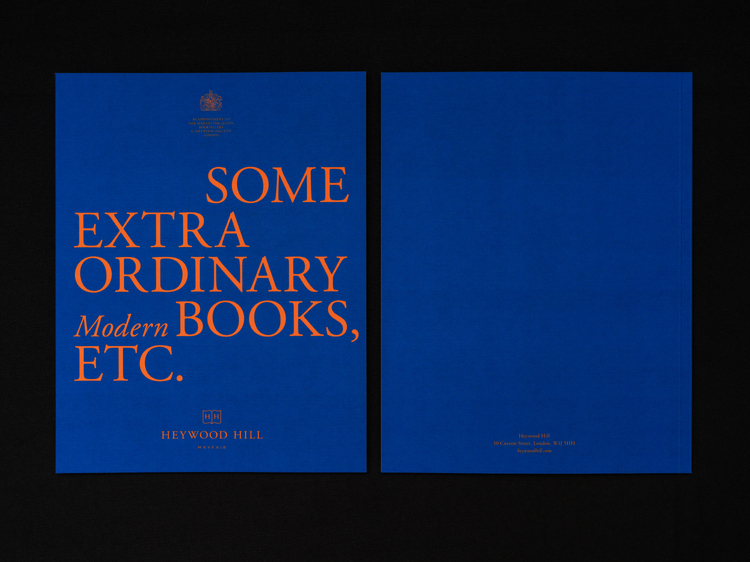 Working with 93 to elevate your brand
At 93, we consider it part of the job to challenge our clients and suggest strategies which are intentionally different from the market norm. Using a non-standard format ensures that the product we create gives our client a clear advantage among their competitors and guarantees they stay front and centre of mind for their target audience. 
When you work with 93, your project, whether digital or print, branding or manufacturing, will be given an entirely fresh perspective, that's pleasingly template free.