True Pizzas - Traditional hand painted shopfronts from Sheffield to Derby
Made fresh just for you! Bringing a taste of New York nostalgia and traditional sign writing magic to independent pizza brand True Pizzas.

A hand painted sign is never just a sign
93ft is a design studio interested in producing quality and original design work that adds an extra level of value to our clients projects, brands and businesses. From a brand perspective, you'll often hear us refer to the importance of a brands narrative - the story behind your brand. For us, hand-painted signs are another way to communicate the brand story and bring it to life for your customers, suppliers and staff.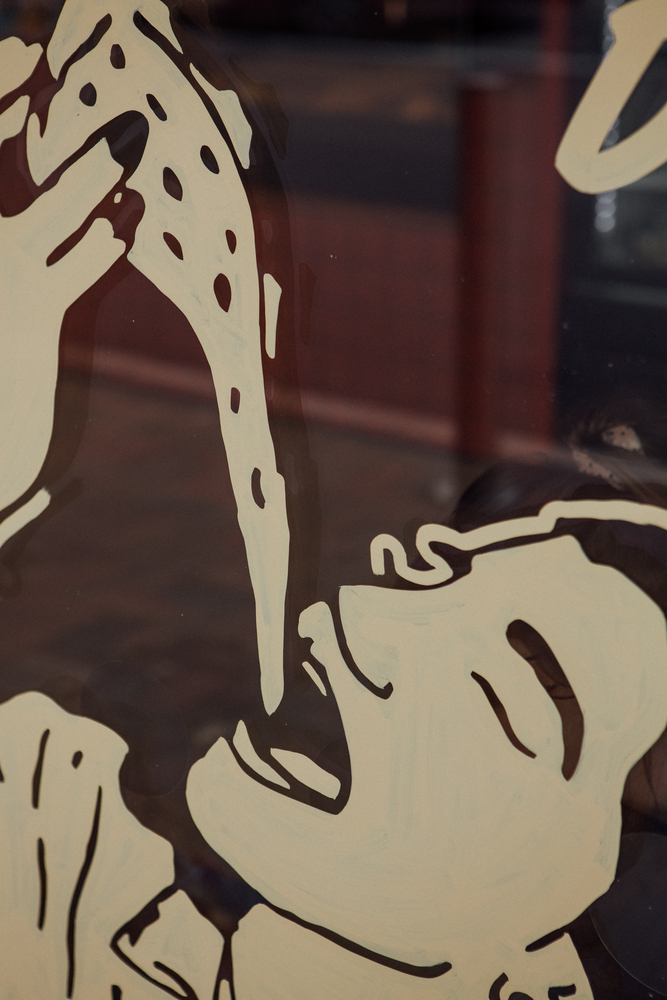 We asked expert sign writer Mia Warner to share her story; how she started hand letter writing and to talk us through the New York inspired sign writing at Derby based, True Pizzas. Photography was captured by Helena Dolby.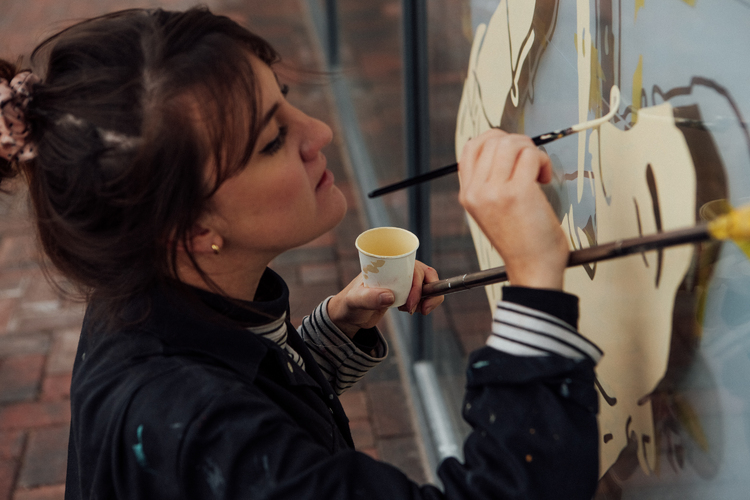 "This job was a dream! Lovely old school casual sho-card styles for me to slap all over the massive windows while being thrown several big slices of delicious 18-inch New York style pizza. I felt like I was in Brooklyn, but this was Chellaston. It was great. The design team at 93ft provided perfect templates for me to let my brushes do their thing, the styles they used were literally made for the brush.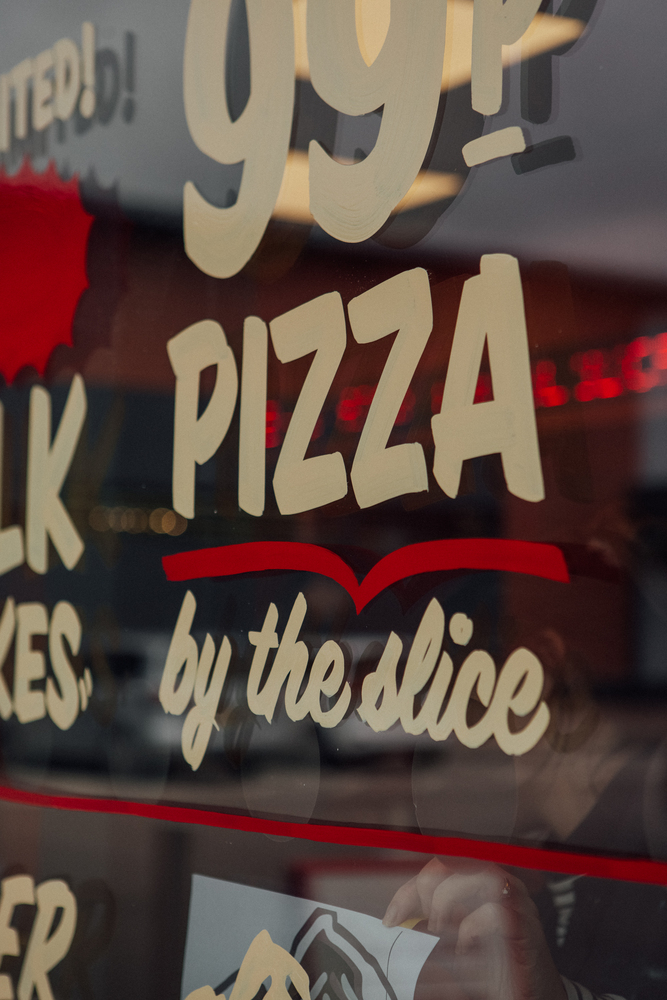 The sign writing at True Pizzas is a lot more casual and "slappy", a weird word to use but I can't think of a better one. Those fat casual letters were made for sign painters to load up their bigger brushes and literally 'slap' them onto the windows to form and shape those big beautiful gestural strokes that are a characteristic of the letters. They're so expressive and bouncy and friendly. I loved that True Pizzas as a business was inspired by New York too, it reminded me of when I visited legendary sign and advertising gurus Colossal Media in 2014. This was when I obsessed with sign painting but before I knew whether I could legitimately quit my job to take it on or not. I chatted to them, had a look around their warehouse and did a little painting with them before my crippling anxiety took over, and that was it. I left knowing 100% I couldn't do anything else."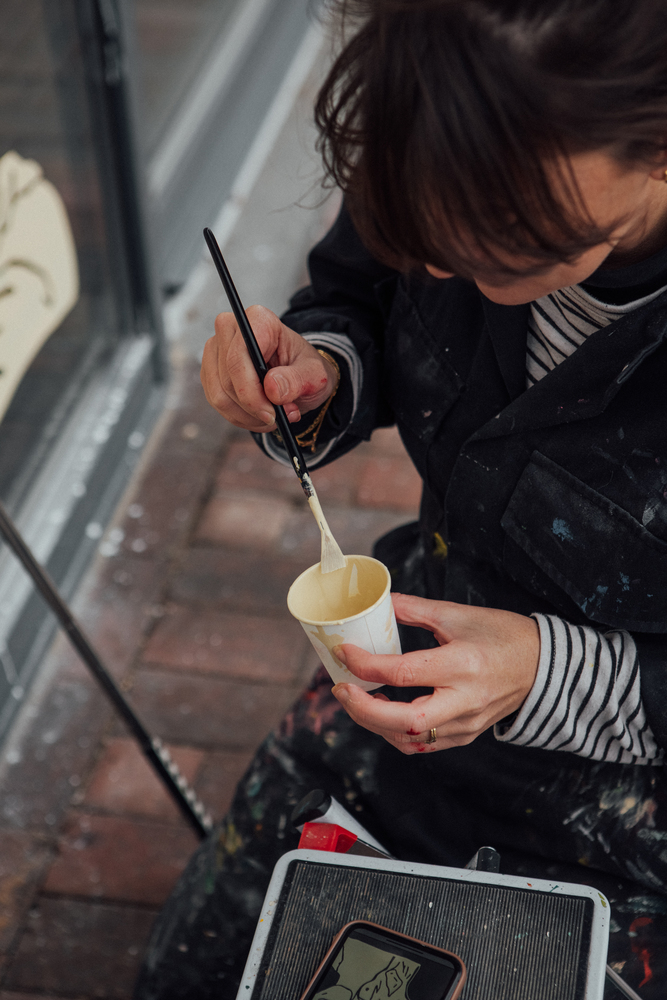 Mia shares some of her top tips on traditional letter writing, below.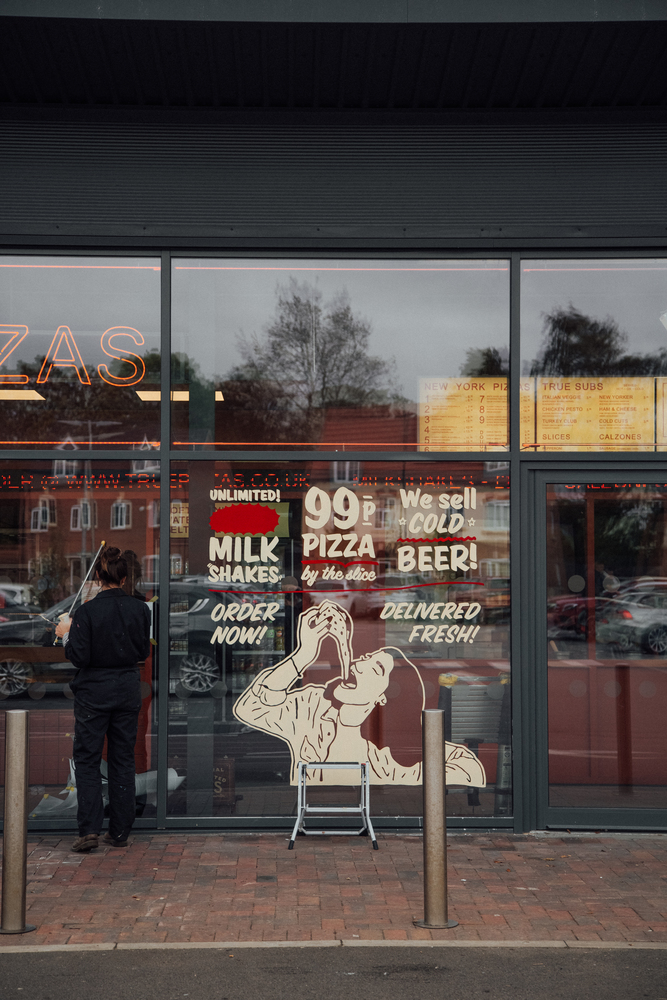 What type of paint do traditional sign writers use?
I use whichever paint is suited best to the surface and the job. My current favourite is oil-based enamel, specifically 1 Shot sign writing enamels. 1 Shot has been providing superior quality paints to sign and graphic professionals since 1948. The red paint we used was off the shelf, which is a good shout in case True Pizzas want to add/mix things up in future. While mixing and matching bespoke colours by eye is possible, using an off-the-shelf colour can make life easier if things change down the line. The red paint we chose from the 1 Shot range was for two reasons; Firstly, the pigmentation makes this an amazing colour, it has so much standout and it only needs one coat to come alive on shop front windows. Secondly, it was the closest to a pizza based tomato sauce! 
In terms of the cream colour, 1 Shot make two shades, Ivory and Chamois. The one we chose happened to be perfect. Gentle, warm, creamy. I wouldn't have gone for a cool ivory because the red is quite a cool tone. We needed a warm red toned ivory rather than a cool blue tone to compliment the bright red.

How do you paint hand-lettered signs on glass?
The designs we produced for True Pizzas were perfectly laid out and so in tune with old backstreet American sho-cards. We printed the designs out at scale on paper, stuck them to the inside of the window and then painted directly onto the exterior of the glass windows. I like to paint onto the outside of glass where possible. The colours pop so much more and we wanted the design to stand out like something Roy Lichtenstein might have created as a piece of high impact advertising style pop art. As is often the case with modern buildings, the double glazing was so thick meaning that if we had painted the sign onto the inside of the glass, the windows would have tinted the lettering down quite a lot. We wanted impact, so painting on the outside of the glass shopfront was the answer.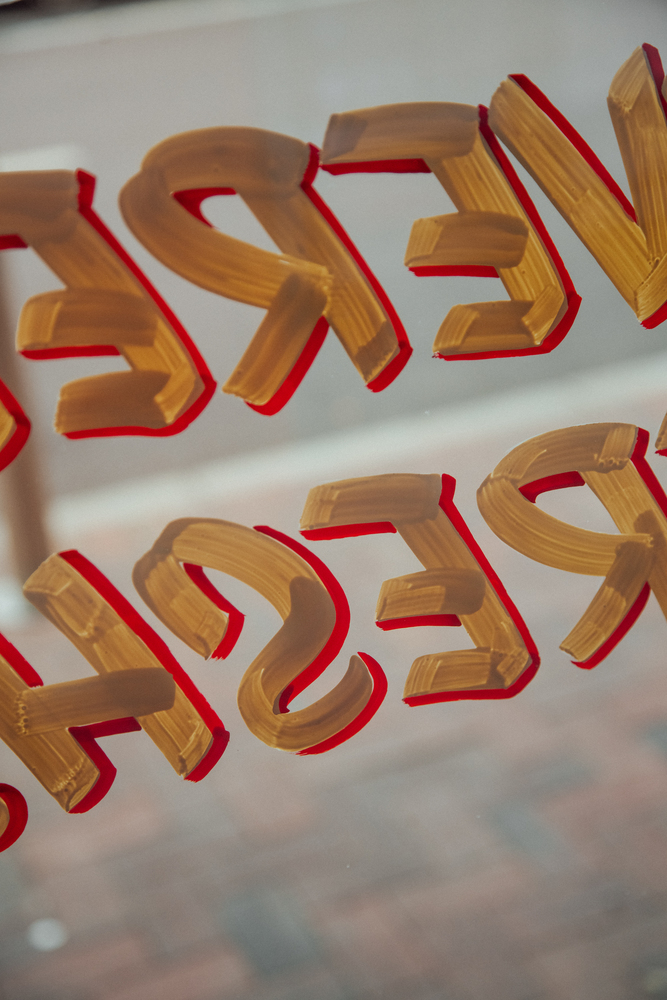 How do you clean enamel hand-lettering on glass?
Using enamel paints on glass means that they don't need finishing. Once it's dry, the enamel paint is very durable. It has a beautiful finish and is tough. When we paint onto glass we double-coat the enamel paint for the most part, and we also did a de-greasing clean before painting. This is important, as de-greasing removes any oil that could get trapped under the paint and makes it adhere to the windows a little better. Every little effort helps protect the work and makes it last longer.
In terms of looking after the sign writing once it's complete, we always recommend that whoever is cleaning the windows needs to treat the painted windows just as they would a painting - and not like vinyl signage. Generally, it is fine to clean over them, but use soft cloths and as few chemical cleaning agents as possible. Enamel painted signs are tough but they will scratch if you mis-treat them. Respect the paint!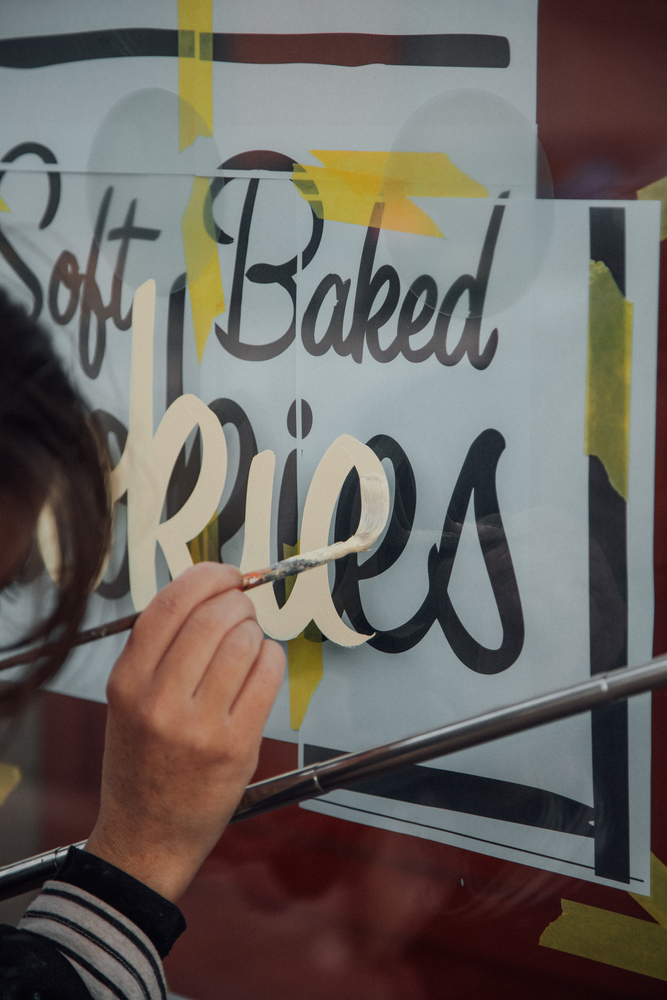 How to prepare for permanent sign writing on glass?
It's all in the prep. The only things that make me anxious before starting a new piece of sign-writing, is when I don't get the designs in time to prep properly for a job. One of the first things I learnt about how to paint enamel signs was that there's always a way to solve a problem that arises, you just have to find it. So, for example my background in calligraphy and hand lettering means that I can draw up any lettering that I don't have patterns for - if needs be. Or, if I don't have a specific colour, I can mix it from the spare paint in my sign writers toolkit.
Are hand painted signs good for business?
Mia had never hand painted in Derby before, and one thing she noted was how many people commented on 'sign writing' as a job, rather than the work that was appearing in front of their eyes. Mia commented that a lot of people were surprised to see it, - "You don't really see that anymore do you?" And "That's a dying art isn't it." The reality is that sign writing is making a come back, even appreciation for signage that has been robbed away or covered over for a period of time, known as ghost signs. The truth is, all forms of sign writing are back with a vengeance and it sounds and looks like Derby needs to see and experience more of it!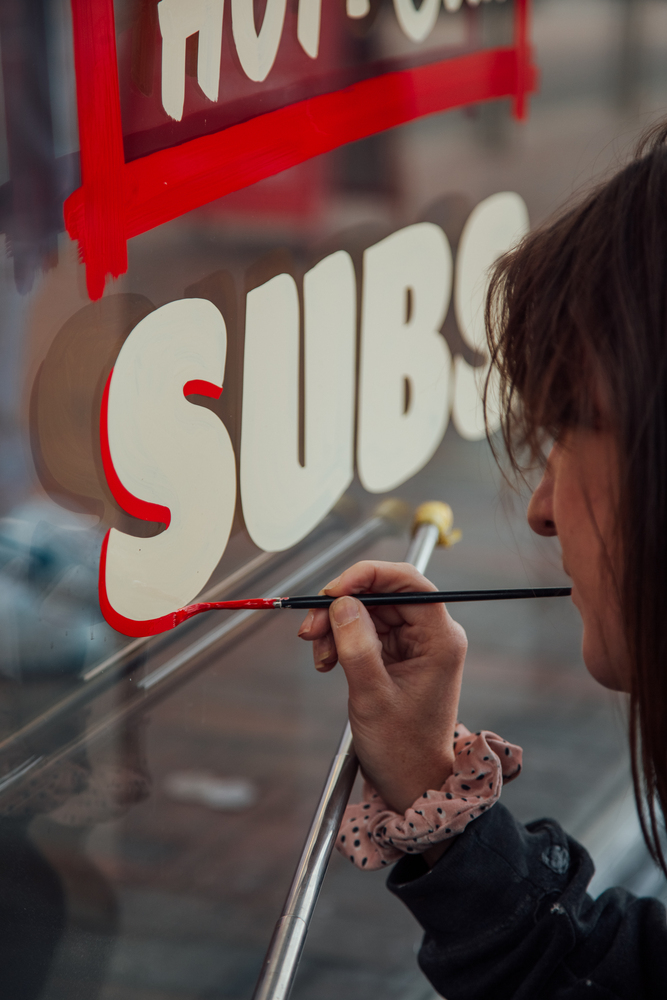 The great thing about commissioning a design studio and sign writer for a hand painted sign is that you're supporting small businesses as well as reviving a traditional craft. Hand-painted signs also have more of an artistic appeal, they bring that heart and soul to the brand, the message or the overall aesthetic. They are also much more environmentally friendly than vinyl signage too. What's not to love?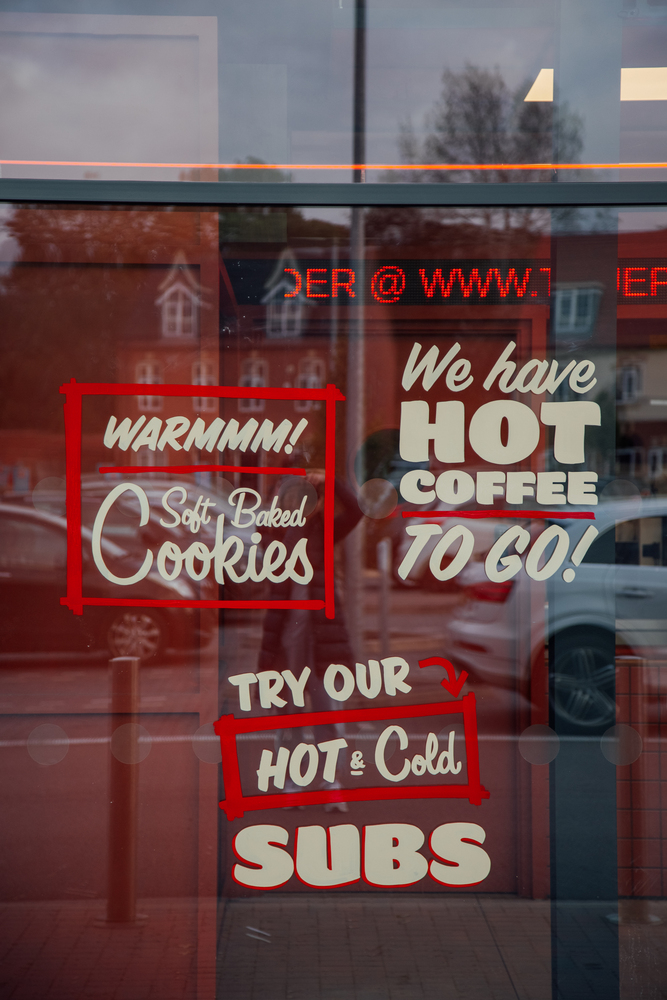 Are hand painted signs environmentally friendly?
Some businesses, are increasingly factoring in their Environmental, Social and Governance strategies (ESG) as part of their process to identify suppliers, materials and growth opportunities. On this basis, we recycle pretty much everything we use to make the sign. To give you an example, tins of paint last for a number of jobs before they're empty, and when they're empty they are either recycled or repurposed. We recycle paper patterns and paper dippers, we dispose of our thinners responsibly, and all our kit comes home with us. Leave no trace is an approach we live and work by. Whats more, traditional hand-lettering is also a pleasingly plastic-free process.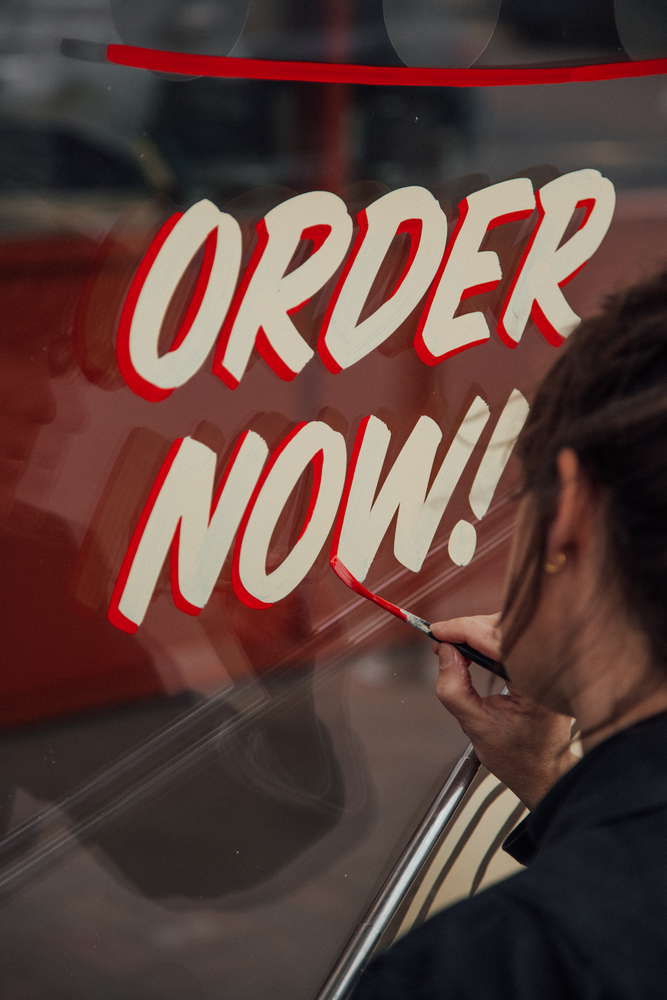 Would you like a handwritten sign designing specifically for your brand or store? We'd like to hear from you.