Breaking GB - Launching a new website for a National Governing Body of Sport ahead of the Paris 2024 Olympics
Building a new, mobile friendly, engaging website for Breaking GB - 93 work with the NGB to provide young people across the Great Britain an accessible avenue into the sport. 
Building a digital presence for a new Olympic sport
On the back of 93's success for Archery GB and Start Archery, British Weightlifting and American NGB USA Archery, we won the pitch to build the website for the newest Olympic sport to date - breaking. Making its debut in Paris in 2024, breaking has worked its way from the streets of New York to the world stage, becoming recognised as a professional sport and offering a route to careers as professional athletes for the most talented dancers. 
93's task was to build a digital presence from scratch for Breaking GB, Britain's NGB for breaking, starting with a website. While established sports have had years or even decades to build their digital presence, breaking is starting from zero with under a year to become the authority in their sport - no mean feat. 
Bringing New York 70's street culture to the mainstream
Breakdancing is a term popularised by the media and often scorned within the sport itself, the accepted terms being b-boying/b-girling or breaking. Breaking originated amongst African American and Latinx young people in 1970's New York, out of hip hop culture. Athletic, high energy and incredibly skilled, breaking is nonetheless an accessible form of dance, requiring nothing more to get started than a beat and a street corner. Journalist Mandalit del Barco named b-boys/girls as one of the four original elements of hip hop, alongside the MC, the DJ, and the graffiti artist. 
At a time when schools in the UK are having to cut back on funding for extracurriculars such as dance and sport, this is a more inclusive activity that young people can get into regardless of family money and background - a stark contrast to many other sports and dance forms. 
Giving Breaking GB a digital boost means providing young people across GB an accessible avenue into sport.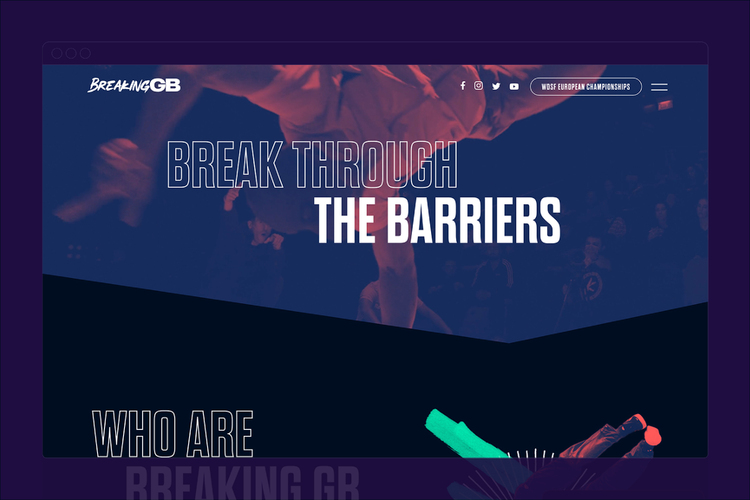 Breaking GB's website - A customisable digital platform to build on
A great website is the first step to a robust and authoritative online presence, making the organisation "real" and professional, a legitimate entity in its own right. The website is what shows up in search engine results and where all social media posts and content on other platforms should direct readers to. When people search for information on breaking in the UK, we want Breaking GB to be on Google's page 1. 
All great websites need regular fresh, up to date content which lets search engines and site visitors know that the organisation is active and thriving. We wanted to give Breaking GB the freedom to update their site as needed, so we created a customisable platform with an accessible backend. This gives Breaking GB the ability to build on our foundations as their organisation grows and flourishes, adding sections and pages, updating news, announcing events and providing resources as they become relevant. 
Even the newest NGB has some key elements to include on their site, from facts about the board and council, to establishing a culture within the sport and information on safeguarding and governance. These sections are likely to be revised and revisited regularly as Breaking GB works out its policies, professionalising this sport for the first time. 
Building a database from scratch was another priority for both us and Breaking GB as this allows them to directly communicate with people who have stated an interest in the sport. Adding an email list sign up form means site visitors can request to be contacted with information on news, events and getting involved in breaking.
Breaking is a physical, visually enticing act and the website needed to draw the attention as immediately as rounding a street corner and coming across a real life break battle would.  We added video in the homepage header to give instant visual impact and compel the viewer to stick around and find out more, with dynamic photography in the headers across the rest of the site.
Our team created custom bespoke graphics to give an energy that's instantly recognisable, showing that this is definitely not just another sports brand.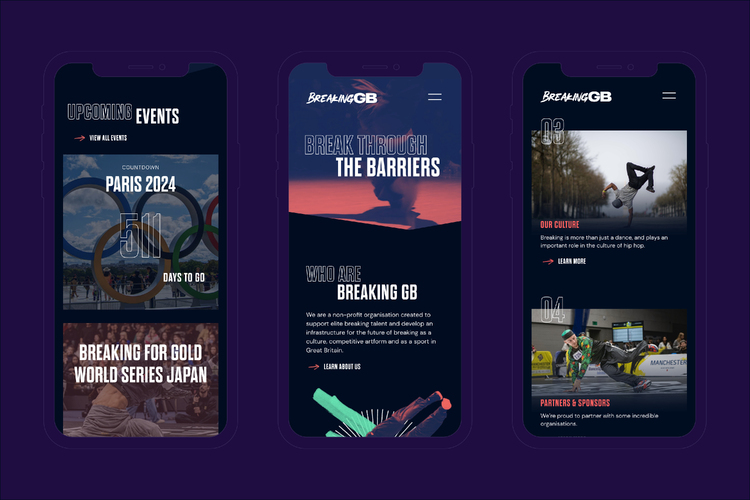 Building on Olympic interest from the world wide audience
Any olympic year sees a huge upsurge in NGB site visits in the run up to, during and immediately after the games, and the website must be ready for this and able to cope. It must also be totally up to date and have everything the visitors expect to see, including athlete information, background info and facts on the sport and ways for beginners to get involved. 
Taking a brand new NGB from a dedicated but small and local audience to the global stage takes foresight and careful planning - there's no room for catching up when the spotlight is already turned to Breaking GB.
Building a website that ranks through E.A.T.
The ultimate goal is for Breaking GB to be the number one authority on breaking in the UK, occupying the first spot on the search engine results page and being the place that people automatically turn to for information on breaking. Getting the top spot relies on your E.A.T - expertise, authoritativeness and trust. Are you seen as the expert in your industry? Are you an authority in your subject and field? And, crucially, can your word be trusted? 
For any brand new website starting from scratch this is a big ask, but for a brand new NGB for an emerging sport that's only just becoming globally recognised - it could seem like an impossible task. As a young organisation, Breaking GB does not have unlimited resources to throw behind their digital marketing campaign, however our team at 93 was inspired by their work, their passion and their goals so created a bespoke plan that fit their budgets in order to be instrumental in getting them established. 
After going live in January 2023, the website began to rank for certain keywords almost immediately, demonstrating the importance of a well designed platform with SEO essentials built in from code to content. 
With our help, and through their own knowledge and determination, Breaking GB is establishing themselves as the go to hub for breaking in Britain. 
Are you an NGB or sports organisation with a new project?
From building a brand from scratch, to overhauling an established NGB site, creating a microsite or just figuring out how to thrive in an ever evolving digital space we can help. If you need a fresh perspective on your sports brand, find out how we can help.