Blend Kitchen - Interior design for positive social impact
Design and fit out of Sheffield based Blend Kitchen. 93ft designed and created a flexible restaurant and workspace, including outdoor terrace, for the social enterprise.
Elevating a socially conscious cause with beautiful, functional and flexible design 
When 93ft began our collaboration with Blend Kitchen in 2021, their vision was to create a kitchen and dining experience that was inclusive, inspiring and non-stigmatising for both its patrons and employees. Blend Kitchen wanted a space that would uplift the community and nurture its people. This was an exciting brief for us because we knew that Blend Kitchen truly understood the vital role that considered interior design has when creating influential spaces that deliver positive social impact.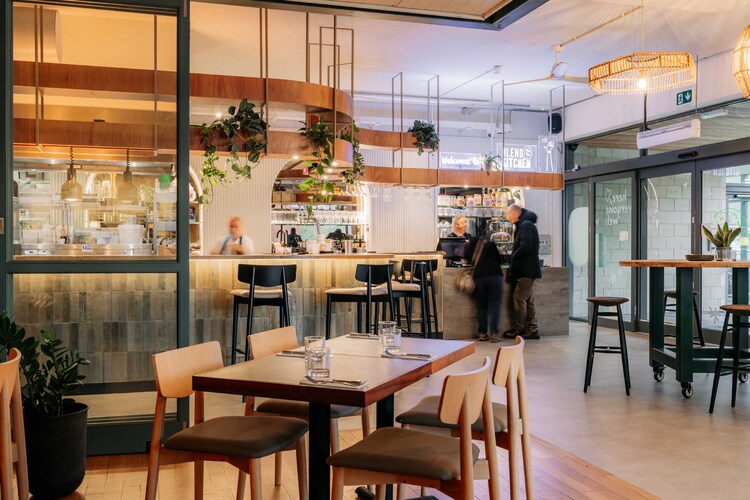 Blend Kitchen is a Sheffield based social enterprise aiming to change the lives of some of the city's most vulnerable people. With the motto "Good food does good", Blend Kitchen provides paid employment to people who have been marginalised, providing them the dignity of earning a wage, and the ability to reshape their futures by building valuable skill sets and gaining experience within a working kitchen. 
When we met Blend Kitchen, they had a cafe open on Pinstone Street in Sheffield's city centre. When redevelopment plans for the city enforced a move, Twinkl, and other local businesses who believed in Blend Kitchen's cause, stepped in offering pro bono support and discounted services to make this project a reality. Blend Kitchen is now based on the ground floor of Twinkl's head office, on Ecclesall Road, Sheffield. 
Blend Kitchen hoped to create an interior environment that was homely and relaxed. They aspired to become a 'destination,' attracting a wider group of visitors while continuing to support an existing group of repeat diners. Blend Kitchen hoped their new space would offer flexible areas that could be hired out for private functions, support remote working while also operating as a traditional restaurant and cafe. They asked us to capture their eclectic personality and evolving nature by featuring the work of local artists. We began work to meet these needs by creating spaces that would support people from different backgrounds and with differing mental and physical health needs. 
We were keen to ensure that this design looked and felt premium - we felt there should be nothing about the space that felt cheap or second best. This project was about giving people dignity, hope and a real, earned sense of pride.
The result is a venue that looks and feels desirable, with its open design and sophisticated colour scheme; that's inviting and welcoming, with warm lighting and intimate tables for two, as well as a curved bar that draws the eye and inspires the conversation to flow.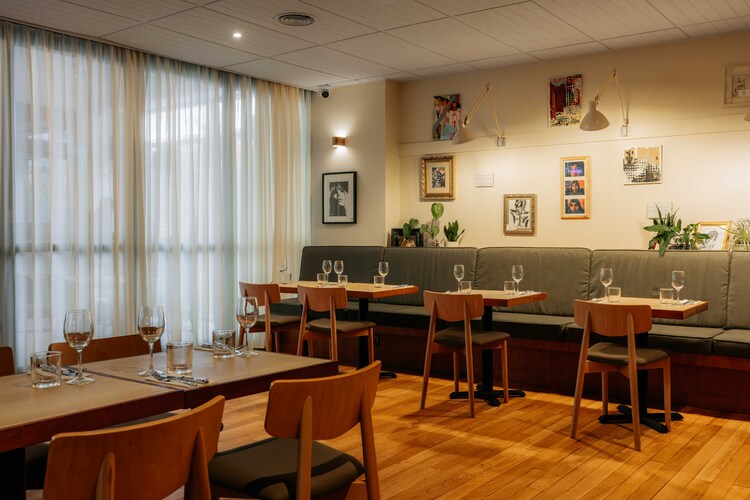 Natural and reclaimed materials lend a raw authenticity
To create a space that worked both as a destination in itself, and as a blank canvas, offering flexibility, our starting point was the use of neutral, muted tones and natural colours. This base palette allowed the artwork, created by staff members and people from the local community, to take centre stage. Plywood, reclaimed maple and muted fabrics in natural colours added to the sense of calm and openness in the space. 
The brief from Blend Kitchen was to create an open kitchen to allow customers to interact with staff. The openness encourages conversations between chefs, servers and customers, bringing to life the collaborative and transparent nature of Blend Kitchen's ethos. We used statement tiles in soft tones of green for the bar front complemented by stained oak timber for the countertop and sweeping, curved plywood for the overhead gantry. Fluted timber lines the back wall of the kitchen and we used mirrored archways and glazed shelving to create the illusion of more space. Reclaimed maple timber flooring from our stocks defines the flexible event/private hire area and an abundance of plants bring a feeling of homeliness and familiarity to the restaurant. Indoor plants can also can benefit wellbeing including improved mood and reduced stress levels.
Designing for flexibility - An evolving space
Blend Kitchen has evolved over the past few years to become less of a drop in cafe and more of a bookable space, a destination for events, classes, meetings and parties. Designing the space to be as flexible as possible has meant that the business has found this evolution smooth and free of stumbling blocks that a less fluid design may have put in place.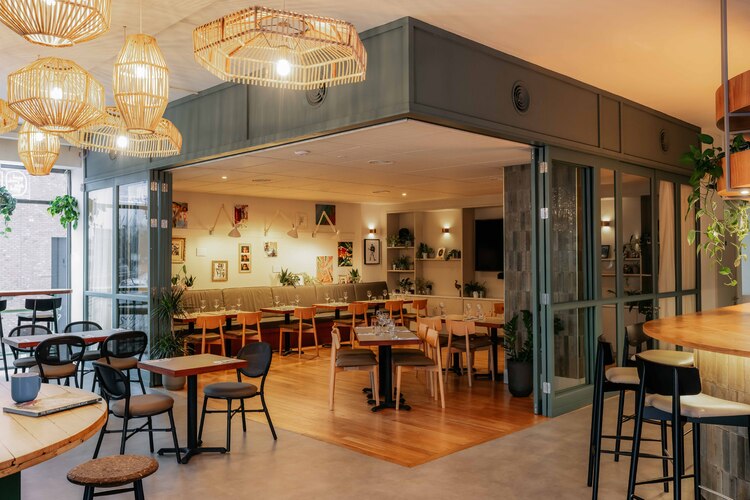 We designed the central zone of the restaurant within a movable, partition screen which can be seamlessly opened to accommodate a more traditional dining set up or closed for private events. The use of sheer curtains offers privacy and adds a tactile softness.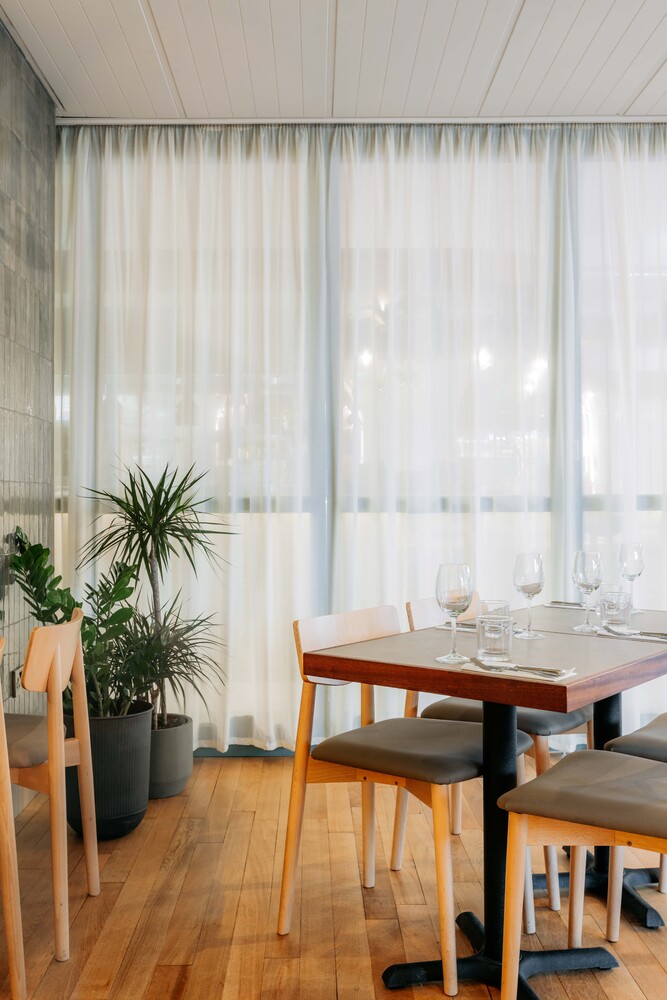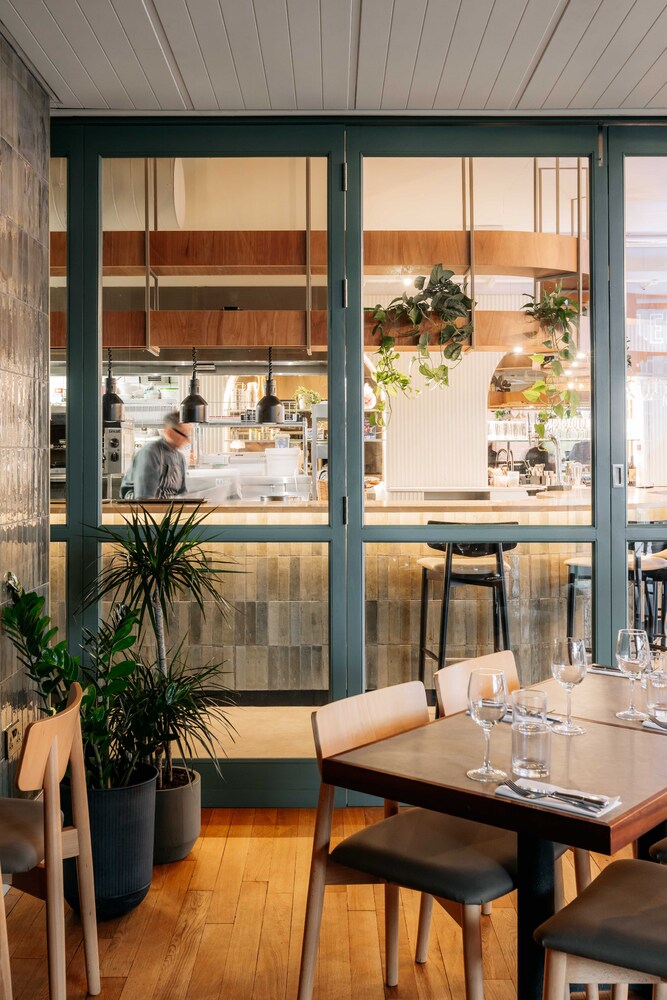 We created an outdoor terrace to complement the interior. This timber and glass structure works as an additional dining area with sliding doors that can be opened to connect directly to the interior. Hanging plants, our bespoke terrazzo tables and lamps, rattan chairs and upholstered booth seating captures the desired indoor/outdoor feel while remaining protected from the elements all year round.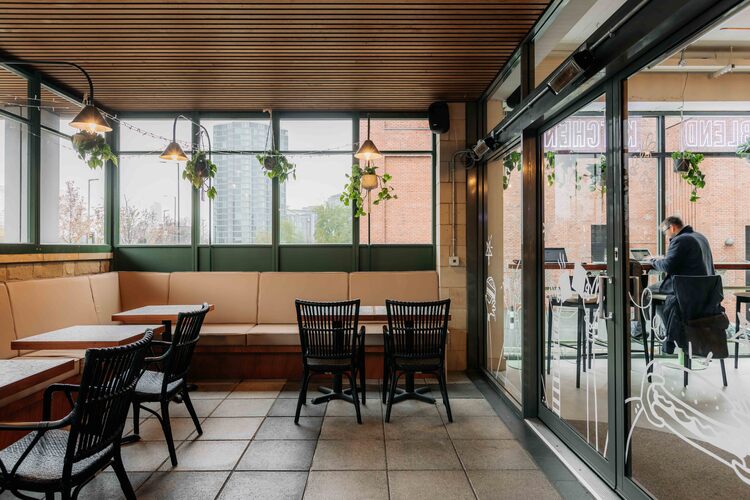 Furniture designed and built by 93ft
93ft's manufacturing team designed and made bespoke furniture for Blend Kitchen. Having access to in-house manufacturing is unique and allows us to effortlessly create pieces that work to the specific dimensions of each space while aligning closely with the client's needs. We created a high, round table from reclaimed timber set on a steel base. We fitted casters to the frame allowing it to be moved where needed, adding another layer of flexibility to the dining layout. 
A workbench with power banks was manufactured by our team to allow customers to sit in the window and work on their laptops while enjoying their coffee. We powder-coated the steel frame in a vibrant green and created the top from the same solid oak as the bar top.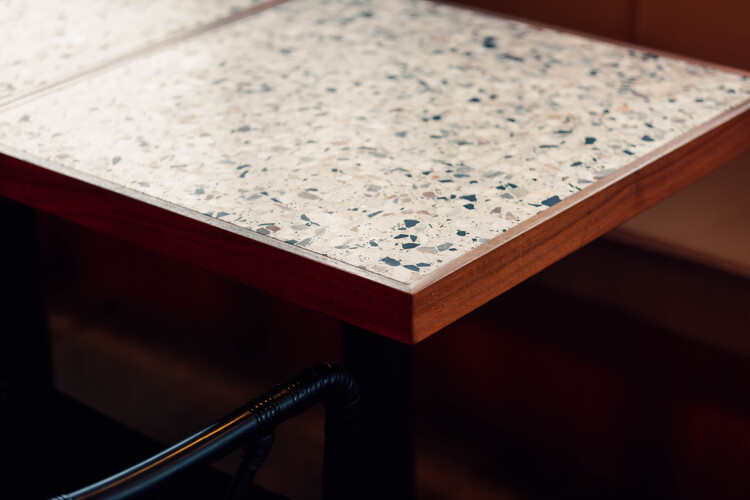 We made tables with bespoke tops for both the indoor and outdoor spaces. We used either Forbo linoleum or terrazzo tile insets, all lipped with solid timber. Other furniture, such as the cork topped, timber based stools add more natural textures and materials to the space.
We gave a nod to the East Asian feel of parts of the menu with statement rattan lighting in the entrance, which creates interesting shadow and light, and a sense of scale. We used reclaimed wall lights in the meeting space to illuminate the gallery wall which showcases artwork.
Sign writing to showcase the Blend Kitchen brand
There are two main areas of signage in Blend Kitchen: the front window and the outside space. Blend Kitchen had some incredible brand assets, created by Front, which we wanted to stand out - another reason we kept the space neutral. 
The front window is adorned with vinyls, fitted by ASAP!, which do two jobs. They stand out in the space, telling the story of Blend Kitchen and showcasing the brand, and they act as a manifestation strip - a fun way of hitting building regulations while staying on brand and making the best use of all the available space. 
The outdoor sign was designed and created by 93ft. Made from natural, untreated metal, we wanted the sign to sit within the planted area out front. This has since rusted, creating a weathered look that aligns perfectly with the natural look and feel of the place.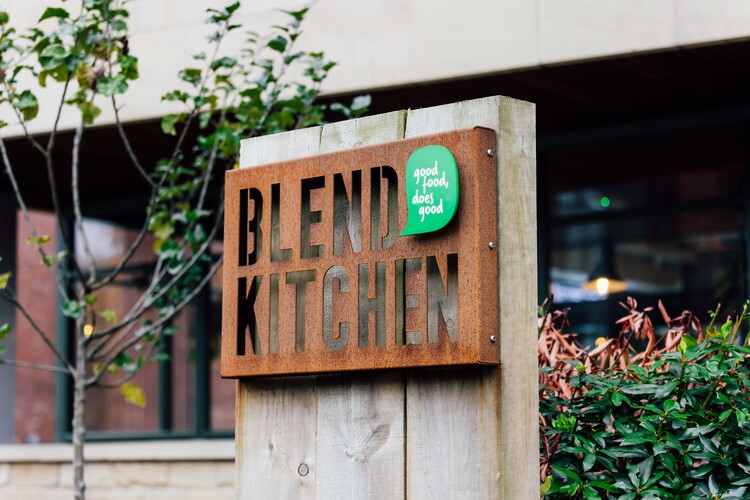 Impact
Blend Kitchen's Justin Rowntree said:
"From the early stages right through to launch it was clear how invested the 93ft team was in the project. It was obvious how deeply they cared about what we were trying to achieve and understood that the design of the new space was mission critical to our success. The trust that was quickly built with Amber and the team meant we always had faith in the design process and had full confidence in the recommendations made and steer we were given to achieve our goals.
"Our needs were complex and unique - to create a fully accessible, multi-functional and flexible space. Amber and the 93ft team nailed every problem we threw at them to produce practical and beautiful solutions. Amber in particular has an approach which makes communicating complex design ideas easy, especially to a bunch of non design heads like us!
Because every single aspect we specified was turned into reality, we have a space that can morph between a cosy private dining room to a hybrid corporate meeting space to a cinema, an autism friendly classroom or an events space for 100+ with a dance floor!. The new space has allowed us to not only deliver our mission of positive social impact, but to expand on it, and in no small part led us to win the Sheffield Business Awards "Best Social Enterprise 2022
The reaction of customers is just wonderful when they see the space for the first time, especially when they see the multiple ways we can use the different areas created simultaneously. Chefs love the way the open kitchen beautifully and practically connects with the customers and staff are proud to call it their own… as we've got to know it, the space has gained its own personality, and what a beautiful, problem solving and caring personality it is!"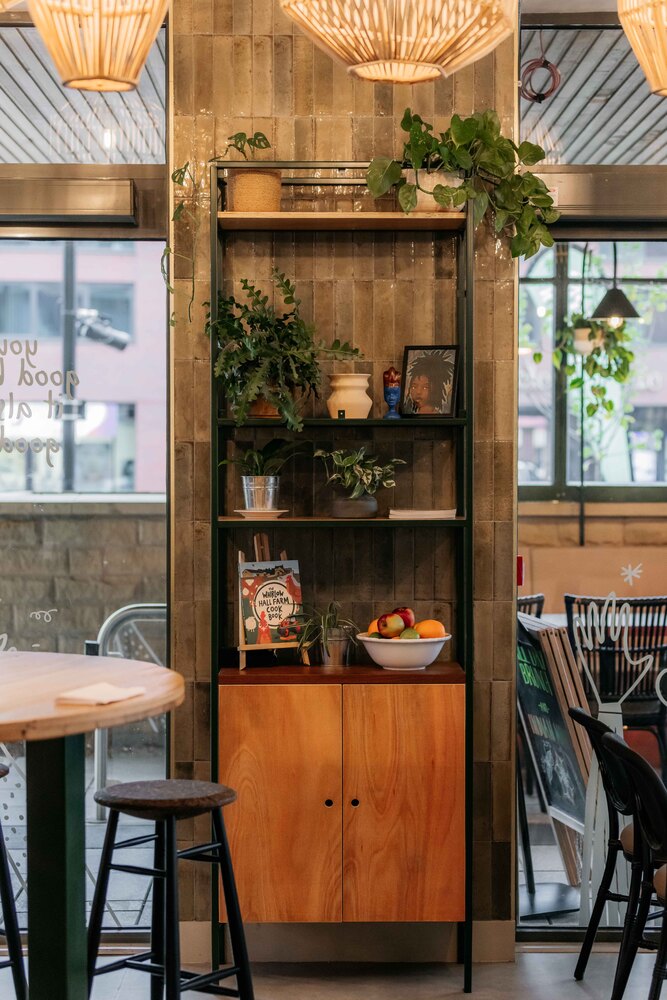 Friends of Blend Kitchen - Community collaboration
From finding the space to adding the finishing touches, Blend Kitchen is the result of collaboration between a community who truly believe in their work. 
Jonathan Frost created and donated perspex "neons" etched with led lights, which sit in the window, drawing the eye on the drive along Ecclesall Road, as well as additional bits above the bar welcoming customers to Blend Kitchen.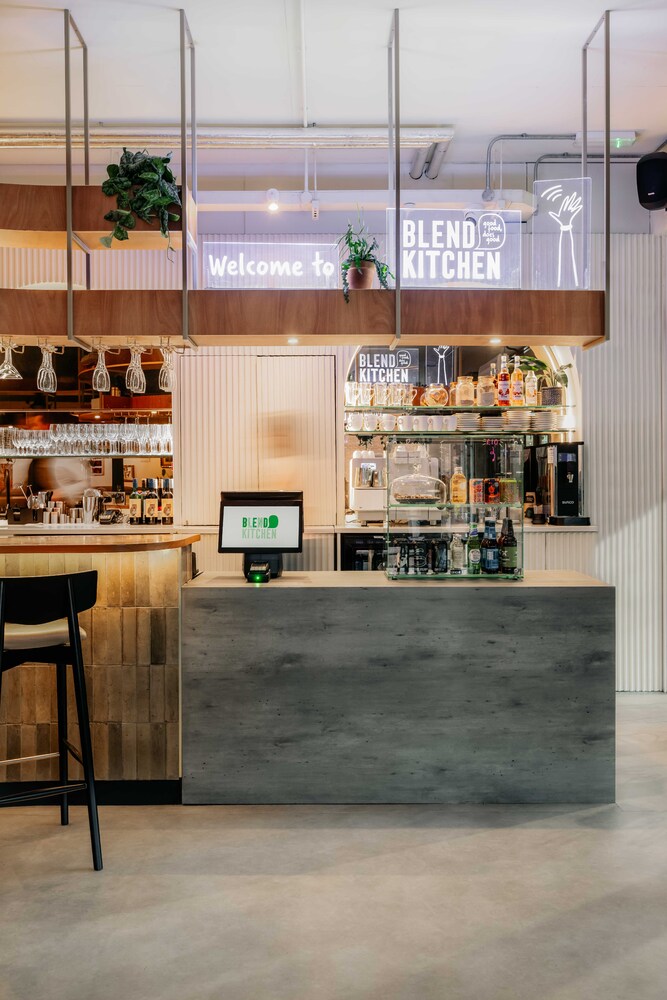 Tim Shearstone offered pro bono work on mechanical aspects, and Johnny Brittain, childhood friend of Blend Kitchen's founder and creative director Chris, took care of the electrics. 
Blend Kitchen also received generous help from Jake at ProAir and contractor Ian Whitehead. 
A recent visit by Sophie, Countess of Wessex to Blend Kitchen gave the employees and trainees there the chance to show off their skills, teaching her how to make Yorkshire puddings - a wonderful way to promote this community gem. 
Have a hospitality design and manufacturing project?
We'd love to hear about it.