14th December, 2021
Neon sign design - The revival and resilience of authentic glass tube advertising
Real, handcrafted neon signage is authentic, sustainable and perfect for getting your brand noticed in a sea of plastic and LED alternatives.
Neon - chemical symbol Ne - is the tenth element on the periodic table and the fifth most abundant element in the universe. It was named after the Greek word "novum", meaning new. 
Neon was discovered in 1898 in London by a pair of British chemists but was first unveiled to the non-scientific world by a French Engineer, Georges Claude, at the Paris Motor Show in 1910. At the time, neon lighting - which consists of glass tubes containing gas through which a current was passed - could only give off a red glow, almost as though fire had been trained to dance through the glass. An argon/mercury mixture gave off a light blue glow.
Neon nostalgia - evoking the golden age
Consumers were initially underwhelmed by the original colour of Neon lighting. Advertisers on the other hand, immediately saw the potential and Claude launched Claude Neon, popularising neon signage across Europe before breaking into the American market in 1923.
The craze spread - especially after the innovation of tube coatings which allowed for different coloured signage - and the Las Vegas Strip and Times Square became the neon spectacles we still think of today. The iconic "Welcome to Fabulous Las Vegas" sign is perhaps one of the most famous examples of neon signage from the era. The sign, built in 1959 by Betty Willis as a gift to the city, has become one of the most instantly recognisable, frequently photographed and Instagrammable emblems to come out of the US.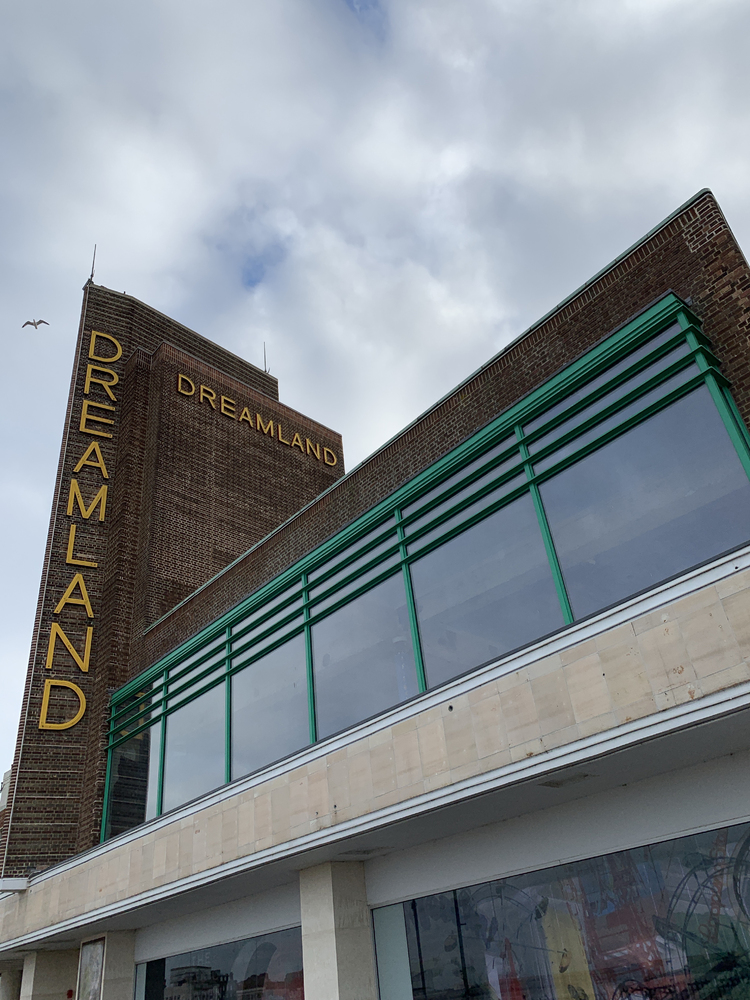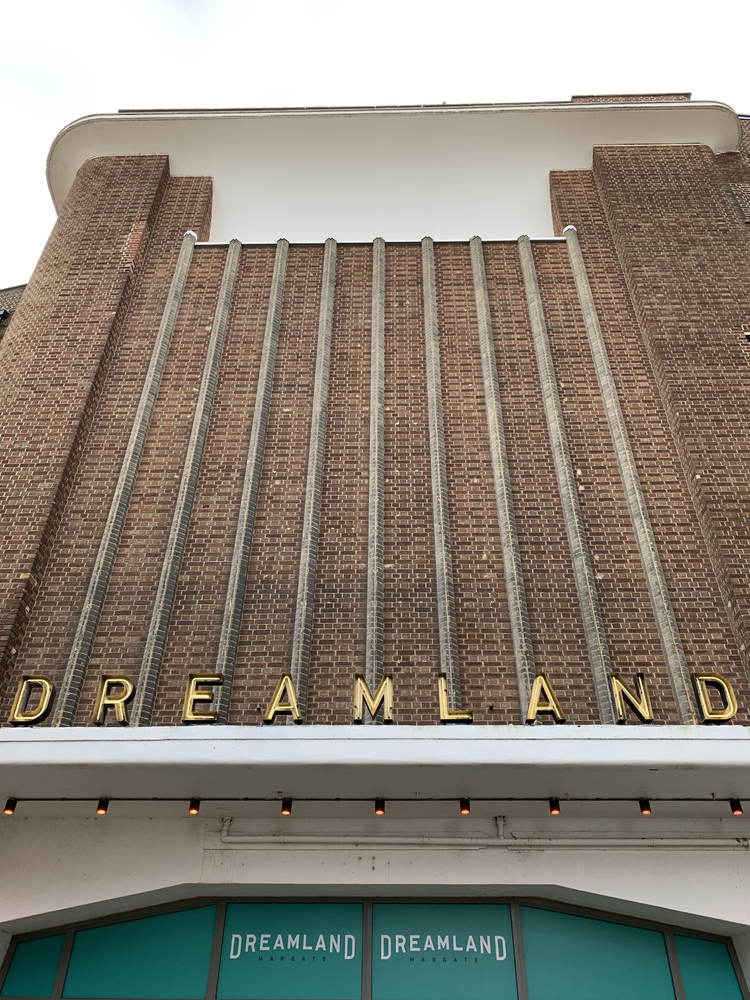 Neon's golden age ran from the 1920s (as seen in the photos of Margate's Dreamland) but began to fall out of favour in the '60s, around the time that LEDs were invented. As LED technology was improved, making them brighter, more versatile and reliable, and less expensive, neon began to be seen as old fashioned. 
Traditionally made neon lights give off a flickering glow, reminiscent of a real wood fire which, with its primal appeal, has been drawing humans towards it since our days in the caves. It's impossible not to turn towards a neon light, to be pulled in. Like the flicker of a television, it speaks to something within us, almost therapeutically.
From New York - where Thomas E Rinaldi tours the city's historical neon signs - to Sheffield - where the old Woollens sign was saved from the skip thanks to University of Sheffield's Professor Vanessa Toulmin, Kelham Island Museum and Neon Workshops - old neon signs speak to something within us. When businesses come and go, the longevity of a neon sign that's been in our urban landscapes for years or decades is remarkable. 
Another curator of Industry and Metalwork of Kelham Island Museum, Emma Paragreen, also commented from a Museums Trust perspective that "the Woollens Sign is certainly a piece of Iconic signage that was a significant part of the Sheffield landscape. It is wonderful that the sign is now part of the City's collections and for the people of Sheffield to enjoy. Sincere thanks go to The University of Sheffield and Professor Vanessa Toulmin for their work on acquiring the sign. Sheffield Museums Trust is delighted to be playing their part in safeguarding this piece of history. The conservation engineers are currently working on its restoration and conservation to ensure it long term preservation and safeguarding it for future generations to enjoy. In terms of its long-term location possibilities are still being explored."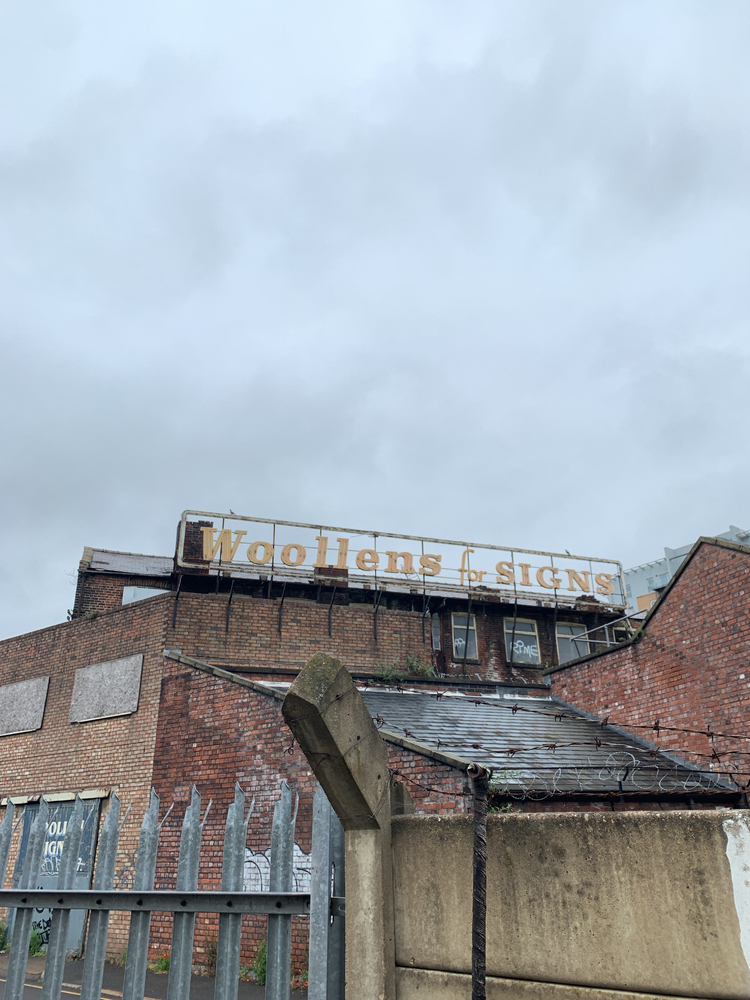 Nostalgia, perhaps a particularly British phenomenon, is a powerful tool. Nostalgia  marketing taps into familiar concepts, products and designs, helping to build trust in new ideas by associating your business with something that your customers already love and have fond memories of.
Neon signage for sustainability
As older technologies such as vinyl are repopularised (Adele's new album, 30, was reportedly delayed by several months due to the complicated logistics of getting enough vinyl records pressed) consumers and brands alike are searching for the nostalgia factor. 
LEDs, with their cold, soulless glow, are as ubiquitous as they are unattractive and so more and more brands are looking to the past to help them connect with their audience and stand out. 
When London's Piccadilly Circus, once a neon wonderland, replaced its glass tubing with plasma screens, significant work went into reinforcing the buildings that would support them. A huge amount of electrical power is needed to keep these screens playing 24/7 365 days per year - not ideal in a time when we all need to think about reducing our energy usage. And while the screens themselves require maintenance and eventual replacement, requiring huge amounts of energy and virgin resources, there are neon signs in America still functional and enticing customers into mom & pop stores and diners 100 years on. 
Real neon lighting is made with UV stable glass - which won't perish or begin to look shabby in the sun. The tubes can be housed on vitreous enamel (the original London Underground signs use this), which is essentially baked on glass over metal making it incredibly hard and robust. If the glass tubes do need repairing, this century old, tried and tested technology means it can be made to look exactly as it was before - something that's not possible with LED's constantly changing tech. 
Where an LED sign needed to be repaired, which often happens within just a couple of years as the fragile plastic perishes and becomes brittle, the entire sign would need to be remade, and would likely end up looking very different to the original - not ideal for consistency of brand awareness.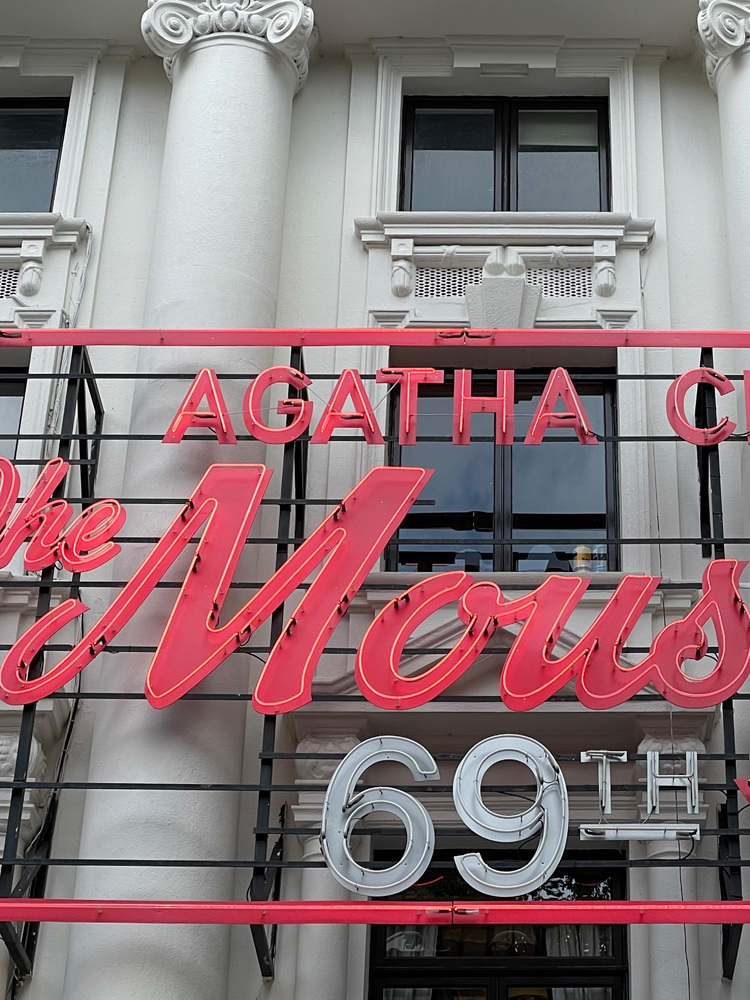 Agatha Christie's The Mousetrap - the world's longest running play - has been a West End favourite for decades and still uses the iconic red glowing neon sign that first lured in whodunnit fans almost 70 years ago.
God's Own Junkyard, Chris Bracey's London collection (well worth a visit if you're in the area), showcases this perfectly in a treasure trove of thousands of neon signs which would have otherwise been discarded. 
Non-financial factors such as ESGs (environmental, social and governance) are becoming the new filter for many businesses when choosing who to work with, as decision making, affiliations and accreditations are sought to align with a business' environmental and social governance values. Companies who are B-Corp registered too, have a growing commitment to deliver internal policy, support change making and achieve their carbon targets.
Some clients may worry that a neon sign is an invitation to vandalism, but Richard Wheater of Neon Workshops calls that "an urban myth".
"It just doesn't happen. In the 10 years we've been in business I can't remember any jobs we've been called out to because of vandalism. Look at the Chumbawamba sign on Leeds Playhouse - people aren't destroying it, they're taking photos of it!"
Should we all be looking past the greenwashing of the so-called wonder tech of today to the well placed nostalgia and longevity of more robust options? Does climate change require us to stop, reduce, and become more mindful in our approach to reevaluate our necessity for a modern mindset of bigger, better, faster, stronger?

Creating an Instagram moment with Marmadukes
Sheffield's own Marmadukes - long standing partners of 93ft - wanted something special for their inner city cafe site on Cambridge Street. When we suggested elevating their well known and loved Polar Bear on a Bike by turning it into a traditionally made neon sign, the client was naturally a little sceptical at first.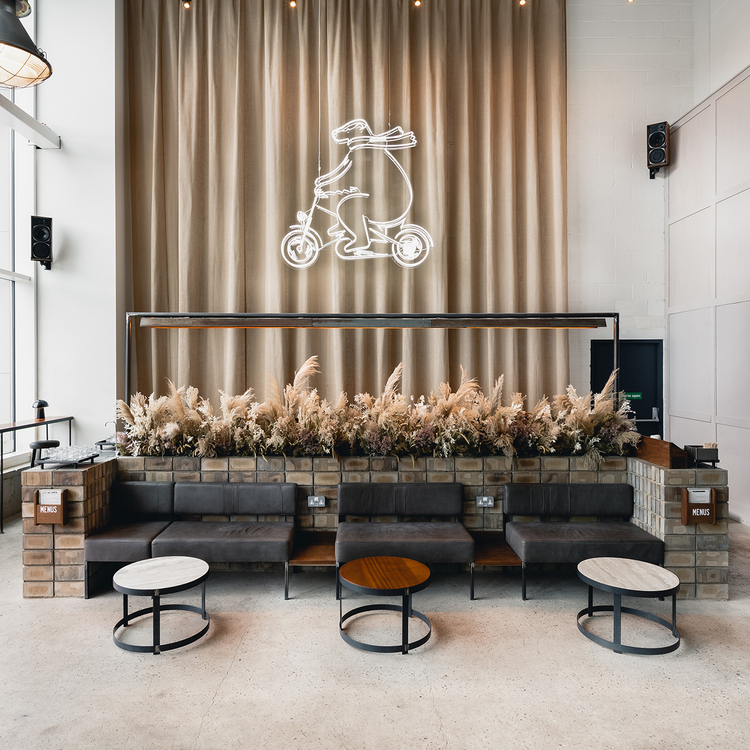 There's a misconception that neon signs are dangerous, with a risk of electric shocks, exploding glass and dreaded liability claims. However as Neon Workshops' Richard Wheater explained, the risk is no greater with neon lights than any other. 
Marmadukes founders Clare and Tim Nye quickly came round to the idea and so the icon-in-the-making bear on a bike neon sign was born, thanks to the vision of the 93 design studio and the talented production team at Neon Workshops. 
Traditionally made neon demands to be noticed, in part due to the subtlety and detail that it's possible to achieve. There are a possible 122 different colours available in real neon lighting, including 25 different whites and eight different greens.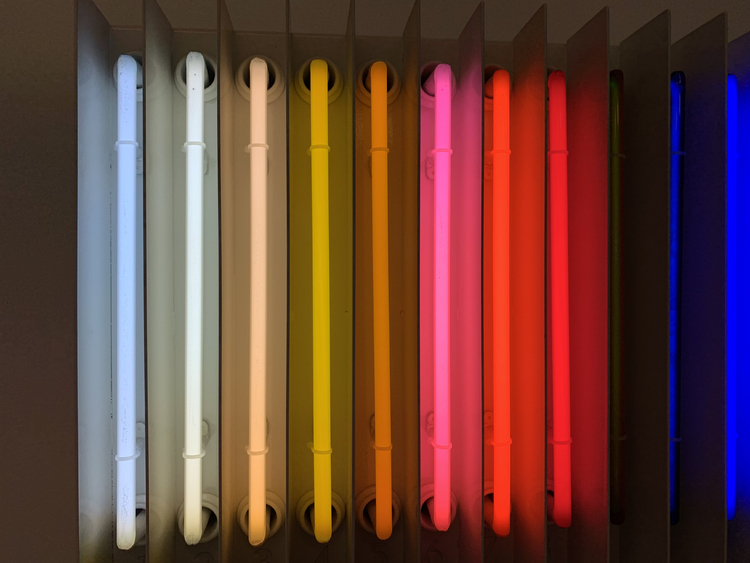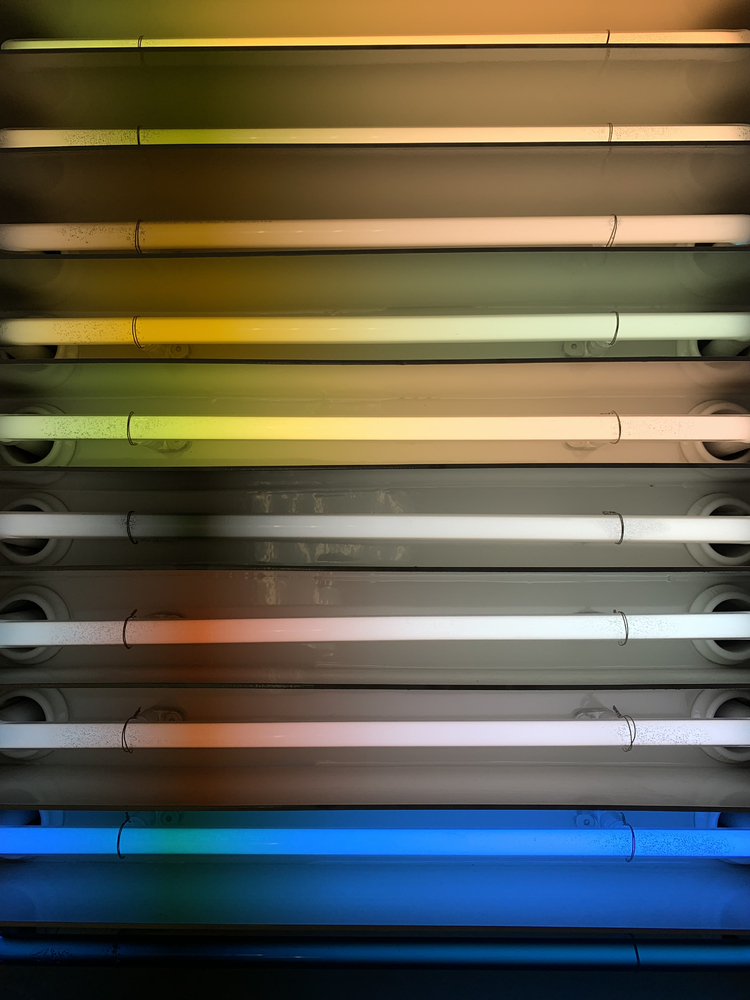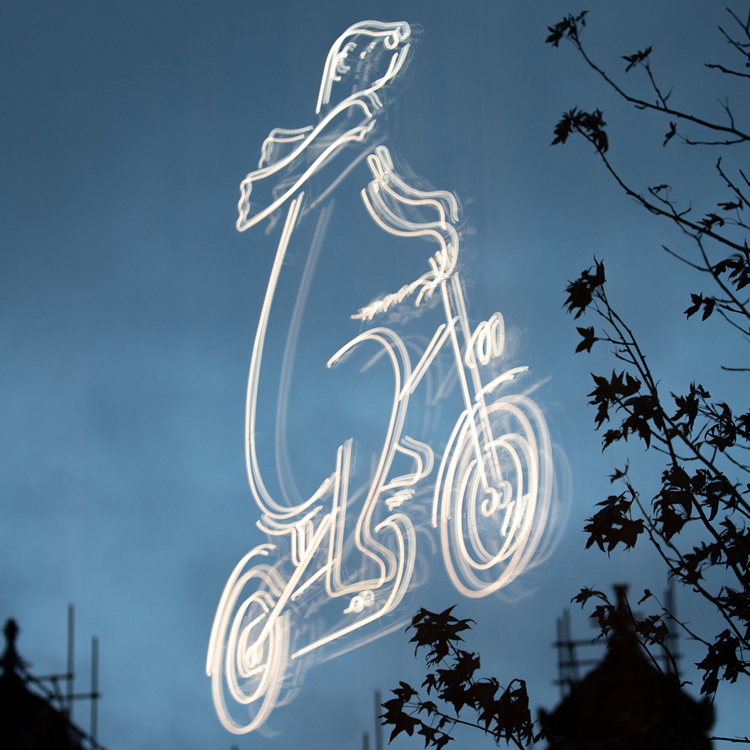 And as we discovered when launching Marmadukes 2 - with the original picture of the new neon bear on a bike sign receiving almost 2000 likes and countless shares, and with every subsequent picture of the sign receiving a similar response - this absolutely translates to the Instagram audience.

Conjuring the authenticity of New York with True Pizzas
True Pizzas, a Derby based pizza brand focuses on the authenticity of real New York 18 inch pizza. That's what they do and they do it impeccably. 
93ft and Neon Workshops created their traditionally made classic neon sign as the perfect way to promote their name. The glowing red sign, beautifully hand bent by Richard's team, not only showcases their brand to the world, it was an absolute must to satisfy their ambitions and to create that authentic customer experience. 
Their sign is unmissable, proudly announcing their presence and perceptibly taking the passerby to another time and place, where mass production was unheard of and every brand stood on its own merit.

The process of handcrafted neon sign work
We spoke to Richard Wheater of Neon Workshops, Wakefield - artist, craftsperson and founder of one of the UK's last remaining neon workshops, to discover his process. 
Real neon signage is created when a craftsperson trained in the art of bending glass forms the glass tubes into the desired shape, before an electrode - glass housing with a metal shell inside - is heat welded onto each end.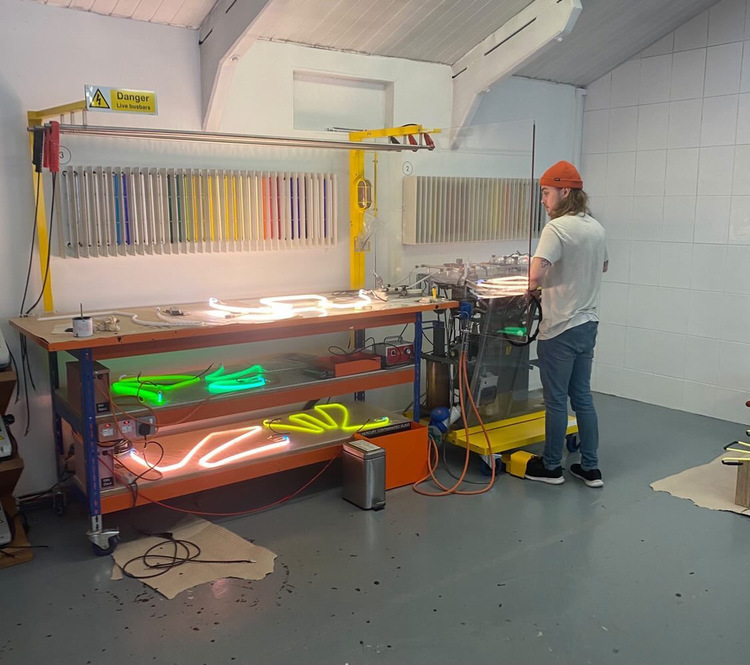 This training takes over 5 years and creates a job for life for the glass bender - a job that necessitates human involvement, that can't be automated or taken over by artificial intelligence. It's a process that by its very nature is artisanal.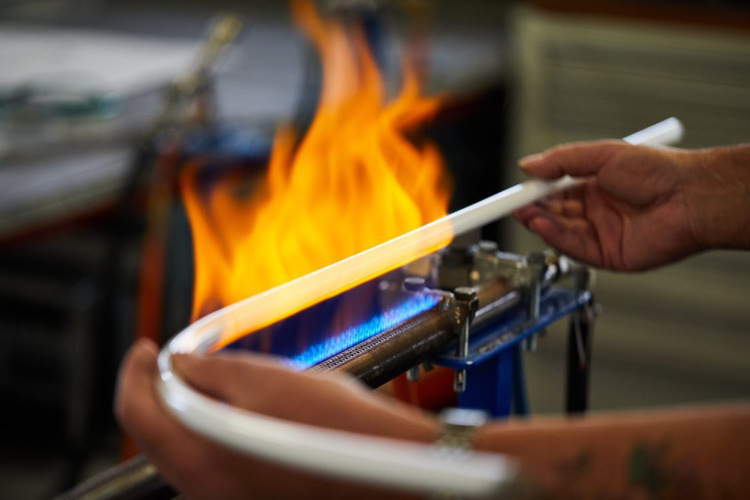 Once the section is complete, it's attached to a machine called an electrode bombarder which vacuums the section down to negative atmospheres of pressure. Electricity is passed through the tubes causing them to heat up, giving off impurities which are vacuumed out of the tube and activating the electrodes.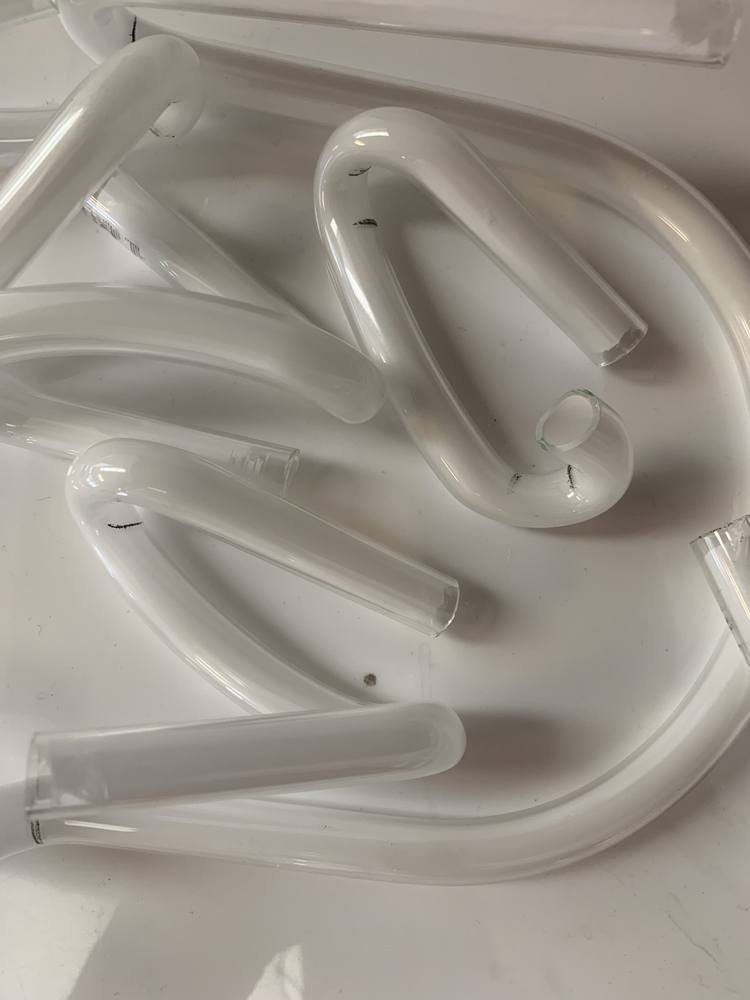 The tube is allowed to cool and the gas is placed inside, before being connected to a transformer to be aged in, which helps to identify potential failures in the tube. Next the tube is "blocked out" - a process where each tube is hand painted on the parts that are not needed to be seen, giving definition to the shape.
This slow, thoughtful process can only be done by hand so, unlike mass produced, off the shelf products, your real neon sign is always authentically one of a kind. Pictured, 'The Art House' Wakefield, neon and exhibition celebrating the work of Fred Tschida who exhibited for the first time in Europe.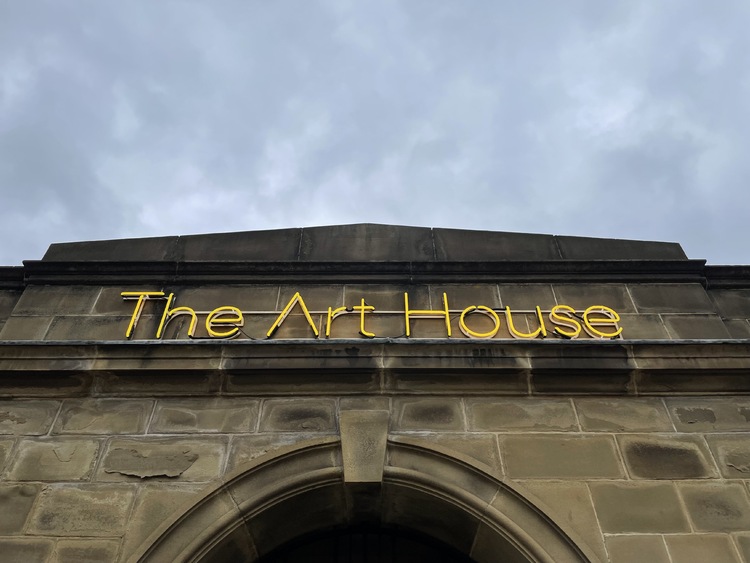 LED "neon" - a toxic plastic imposter
Real neon is always made from glass, but the rise of plastic low-voltage LED "neon" lights and signs are a far cry from the traditional skills championed at Neon Workshops. So far, in fact, that Catherine Spink of Neon Creations in Bolton, is taking on the LED companies who market LED lighting as neon by reporting them to the Advertising Standards Authority. 
As Catherine says, the consumer has often been led to believe that "neon lighting" can be either real neon, or "LED neon" - a misconception that she feels contributes to real neon sign making's presence on the Heritage Crafts Association, Red List of Endangered Crafts, meaning its future is in danger of being eclipsed by the plastic fakes. 
LED "neon" is cut from a solid piece of acrylic by a CNC router, and LEDs are soldered inside. LEDs are composed of compound semiconductor materials, which are made up of elements from group III and group V of the periodic table (known as III-V materials) such as gallium arsenide (GaAs) and gallium phosphide (GaP). A study published in late 2010 in the Journal 'Environmental Science and Technology' found that LEDs contain lead, arsenic and a dozen other potentially dangerous and carcinogenic substances.
Exposing these elements for use - from lead mining to arsenic, the byproduct of burning coal - is a damaging environmental practice in itself, and the legacy they leave is complex. Separating and recycling these materials for reuse can be difficult and  not all recycling facilities have the capacity to do so, meaning they're destined for landfill. 
Councils across the UK will soon charge for different kinds of waste removal which will make disposing of LEDs and their toxic blend of heavy metals a very costly affair. 
In a world where the climate emergency, COP26 and carbon neutral are on the everyday agenda, why is LED lighting so often touted as the environmentally friendly option? The technology used in real neon lighting is not only proven over decades and extremely long lasting, it's recyclable - even the miniscule amounts of natural gases from inside the tubes are reused. 
Newer technology can be seductive as we're led to believe that progress is automatically best, especially in environmental issues, however with LED lighting the evidence seems clear. In environmental terms, they're a huge step backwards. 
Using the authenticity of traditionally crafted neon signage as part of your brand story and legacy
At 93ft we pride ourselves on being pleasingly catalogue free. The items we create for our clients, often using reclaimed and sustainably sourced materials, can't be found on the shelves of a big box store - speaking to our integrity and the authenticity that we live by and breathe into all of our client projects. We were so stoked to see Fred Perry's store in Leeds featuring a large neon logo, proudly showing the high street that neon is part of their brand strategy as well as a great match to their fashion industry appeal.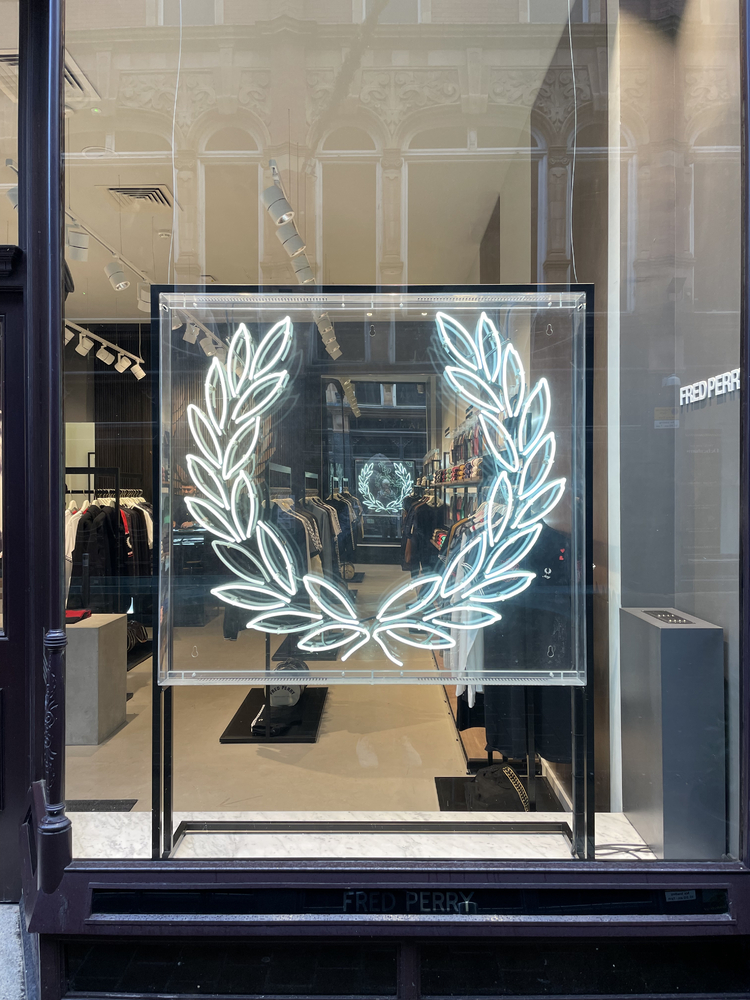 The film "It's a Wonderful Life" first added a feeling of seediness to the neon sign, when the wholesome Bedford Falls becomes Pottersville in George Bailey's absence. The neon signage in the town is clearly meant to denote a move away from traditional values, and this association may still exist. For some, the neon sign may conjure images of late night takeaways, sex shops and Amsterdam's red light district but the real world of neon lighting today is incredibly varied.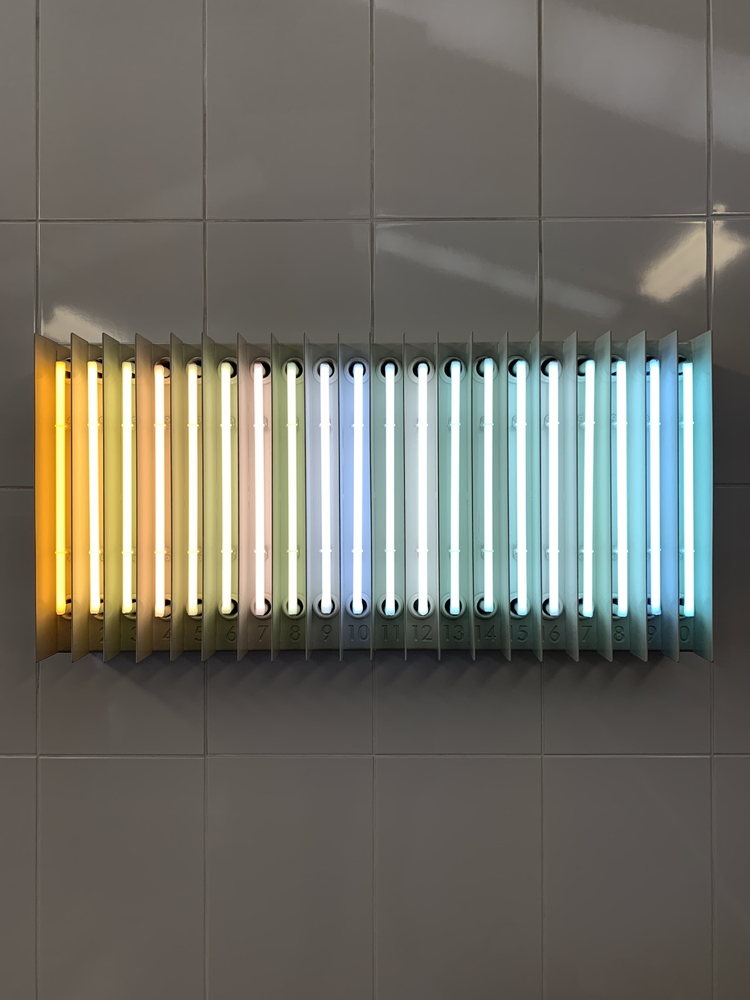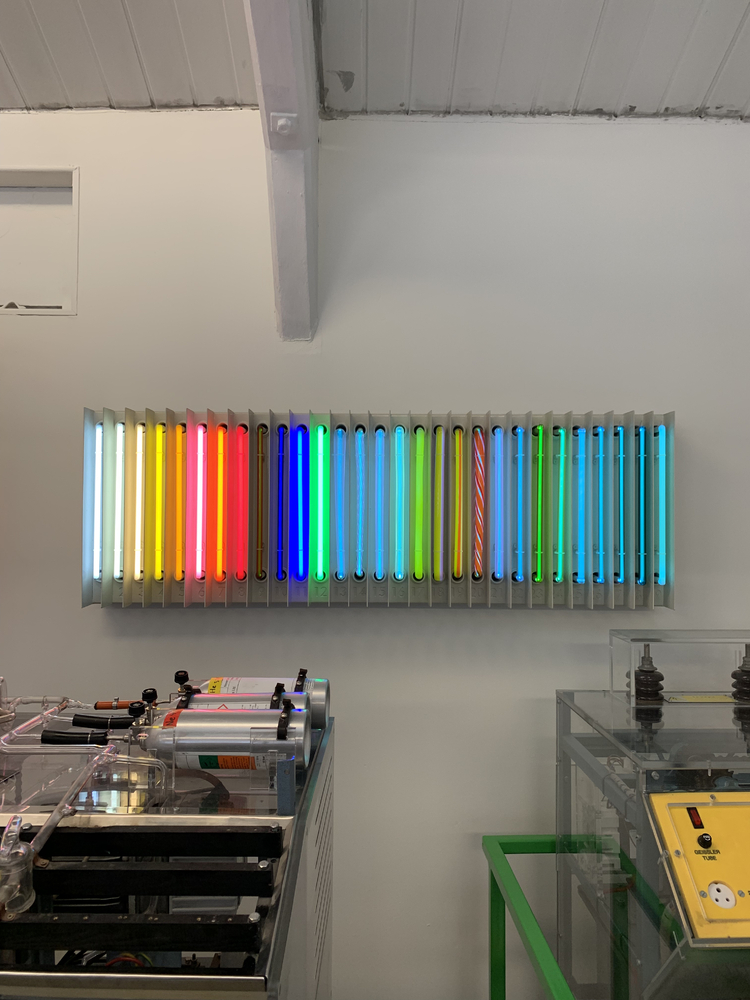 With the huge range of colours - achieved by either a different mix of gases, or by using coloured glass tubes still made in Burano, Venice - and the art of "animating" or sequencing aspects of a sign to bring it to life, neon signage has been used to showcase everything from noodle restaurants to mosques.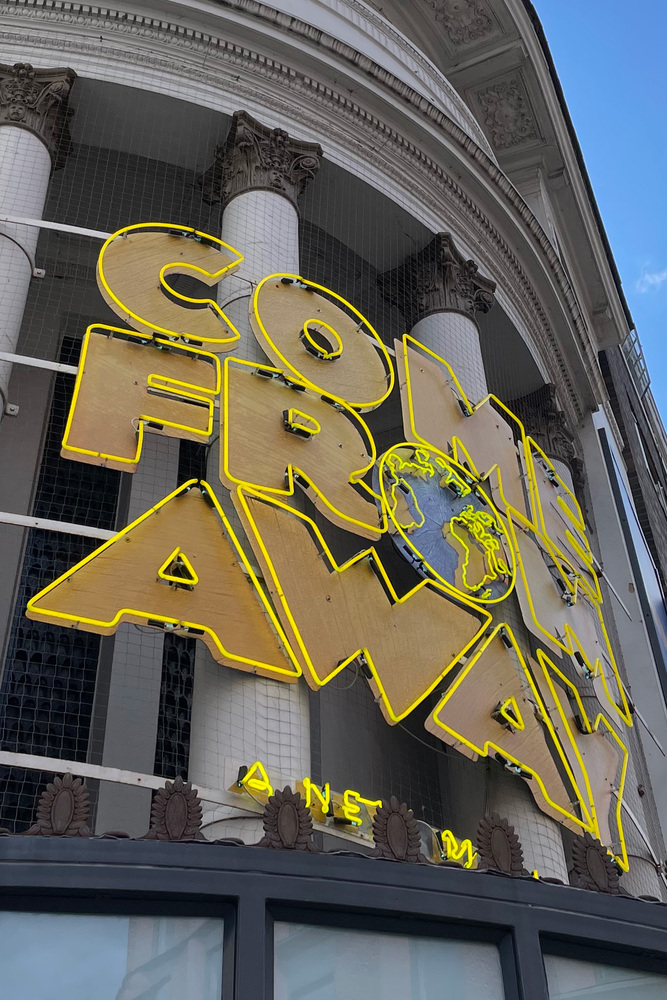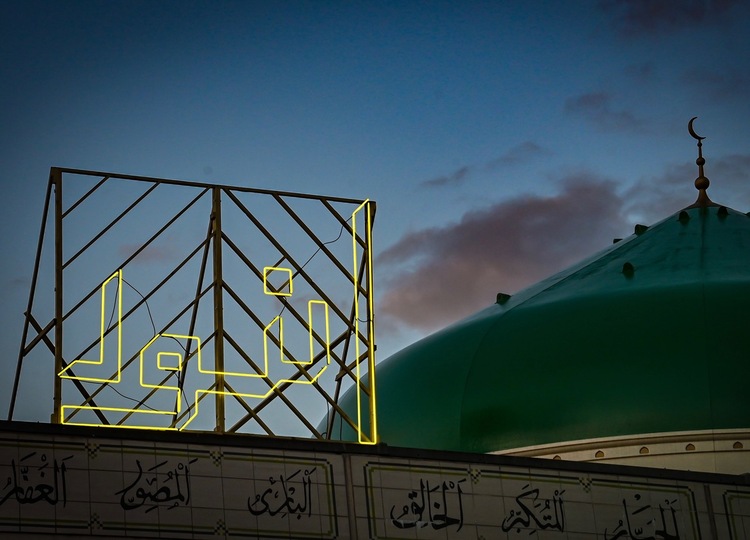 From our expert joiners creating bespoke cabinetry to our longstanding collaborations with traditional handwritten signwriter Mia Warner, 93ft are champions of traditional, authentic skills. For brands seeking a deeper sense of authenticity, traditional, slow, mindful processes like these can't be beaten. 
Some of the first questions we ask new clients are "How do you want your brand to be seen, to be viewed?
What's the story your brand wants to tell?"
When it comes to neon the choice is clear - are you a plastic brand or are you handcrafted glass? Is authenticity, nostalgia and a return to traditional processes part of your brand story? How can you stand out in a sea of plastic and cold LEDs?
We think the answer glows bright and clear as a traditional hand bent neon sign: Create something amazing of museum quality that will still be working long after we're gone.
To start your own project with 93ft just get in touch
Photography includes work by 93ft Design Studio and Neon Workshops, as well as featuring works of neon that we have seen while out and about in the UK. Also featuring the photography work of Brad Matthews and Helena Dolby.