Marmadukes - 93ft designed a cafe store, bakery and community hub in a former sorting office
Creating a neighbourhood hub, restoring an old building and putting farm-to-table food at the forefront.
93ft and Marmadukes go way back - we forged a strong relationship with Clare and Tim Nye, Marmadukes' founders, when we came together to design Marmadukes 2 on Cambridge St, Sheffield.
We met Clare and Tim at the site of The Sorting Office on Sheffield's vibrant Ecclesall Road to discuss their vision for the place, and to check out the canvas we'd be working with. Although it was looking less than inspiring at the time, with Royal Mail red doors and a dull grey rubber floor - we could all see that the bones of the building were sound.
Clare and Tim decided to hit go on the project when the pandemic first began in 2020. The lockdown afforded us all the time and space we needed for a truly brilliant design and delivery.

Creating community to counteract the online trend
With internet shopping and ordering in at an all time high during lockdown, we knew that Marmadukes 3 (The Sorting Office) needed to offer something different. 
Ecclesall Road is home to a thriving community of students, families and professionals, Sheffield Hallam's Collegiate Campus sitting comfortably alongside independent businesses and the beautiful Botanical Gardens. We had a vision for Marmadukes 3: To bring this community together over great coffee, great food and great design, while breathing life back into an old, unloved building.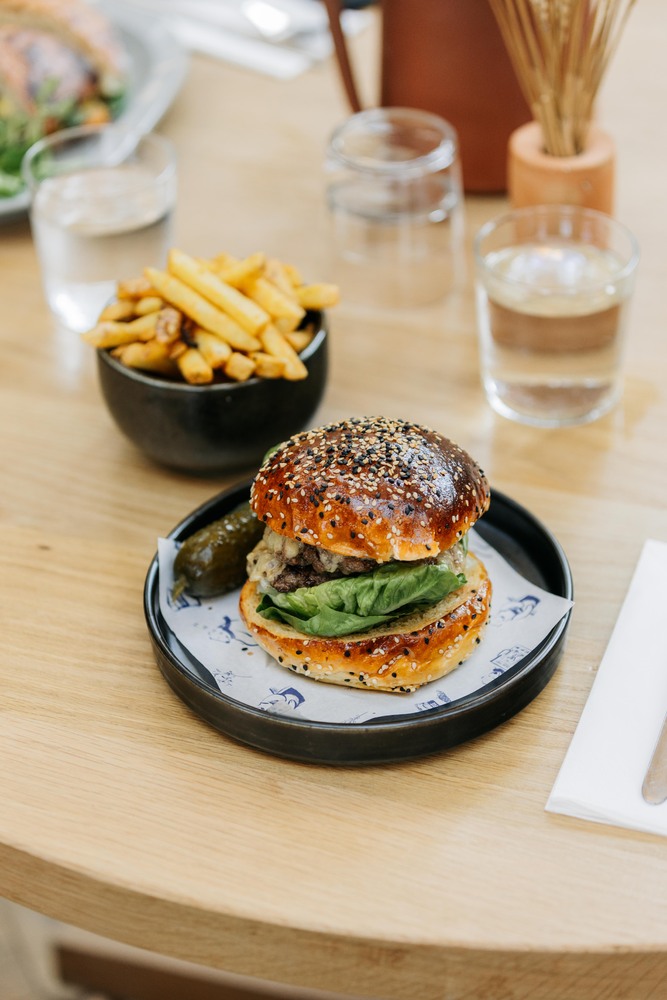 As the city centre seems to lose its lustre - with businesses closing and vacant premises lining the streets - creating a community hub outside the centre feels ever more vital. The questions we faced were, how to use design to create a space that is not only beautiful and functional, but resilient? What does a brick-and-mortar business need to really thrive at a time when online delivery is said to be king?
Addressing these questions was part of the reasoning behind creating an in-house bakery in Marmadukes 3. When a business diversifies, becomes multipurpose, it builds resilience into its fabric.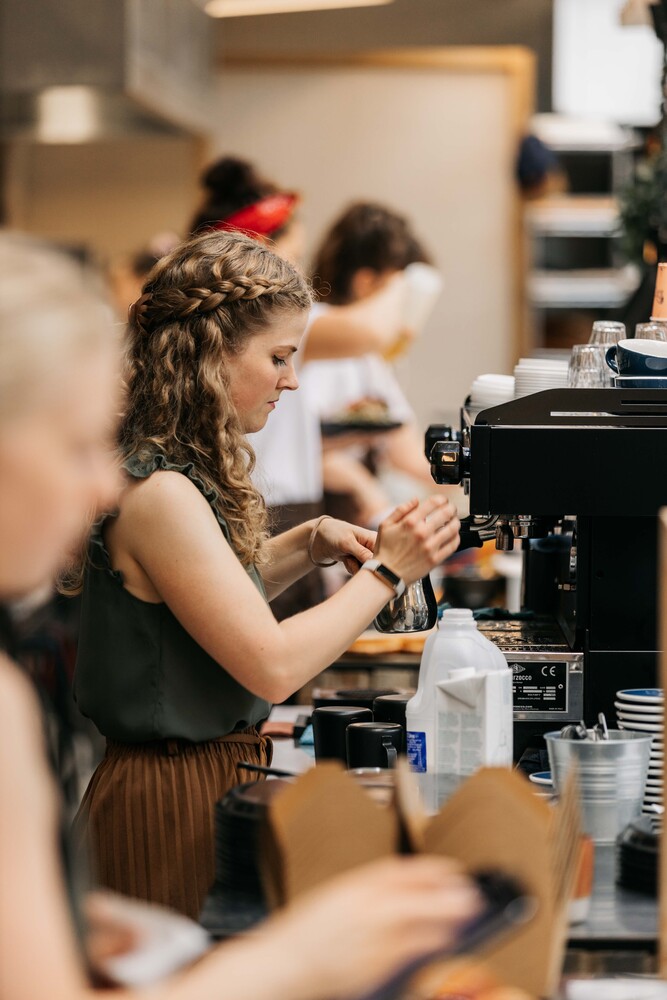 The brief: A blended approach to style that feels timeless and worldly
Our vision for the site, shared by Clare and Tim, was bright and ethereal, and as we peeled back the old post office interior - we could see that this was the right move. 
We developed the style - best summed up as farmhouse sensibility, mixed with good Scandinavian design, meeting contemporary Japanese - blending the honesty and organic nature of a farmhouse kitchen with calm, cool, and homely aspects of great Scandi interiors and incorporating the modern, sharp and simple Japanese joinery seen in contemporary Tokyo cafes. 
This blended approach of styles generated an interior that invokes a global fee. Once inside you feel you could be in London, Amsterdam, Copenhagen or Melbourne. 
There is an authenticity present in the clean lines and organic materiality which speaks to the sustainable nature of the space - the fact that we simply enhanced the original space without detracting from its honesty.
The overall effect is a sense of timeless and classic design, relevant now and for the future.
An intuitive layout that works for the business and the space
We developed a layout to deliver distinct aspects. The building interior felt closed off to the outside, so we removed the front doors and replaced them with a traditional bakery display - seen the world over as artisans show their wares in store windows. 
Next you hit the retail area, with coffee and cake counters where you can grab and go for your morning coffee, lunchtime loaf, or a late afternoon pick me up sweet treat.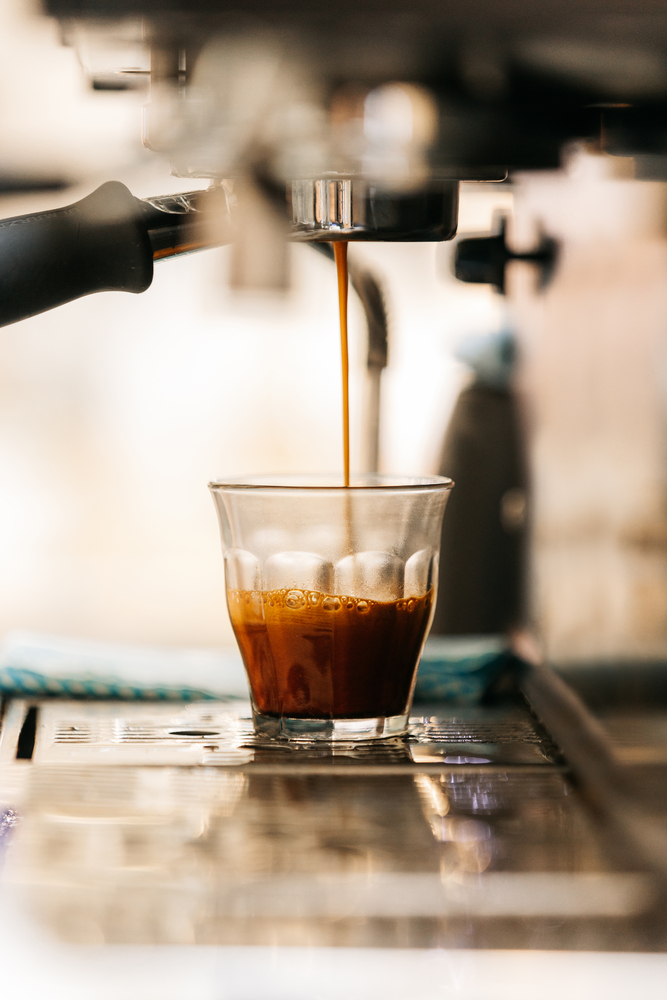 From there you enter the dining hall, an airy space where honesty is celebrated throughout, from the materials to the completely open chefs' kitchen, continuing to the theatrical bakers' station.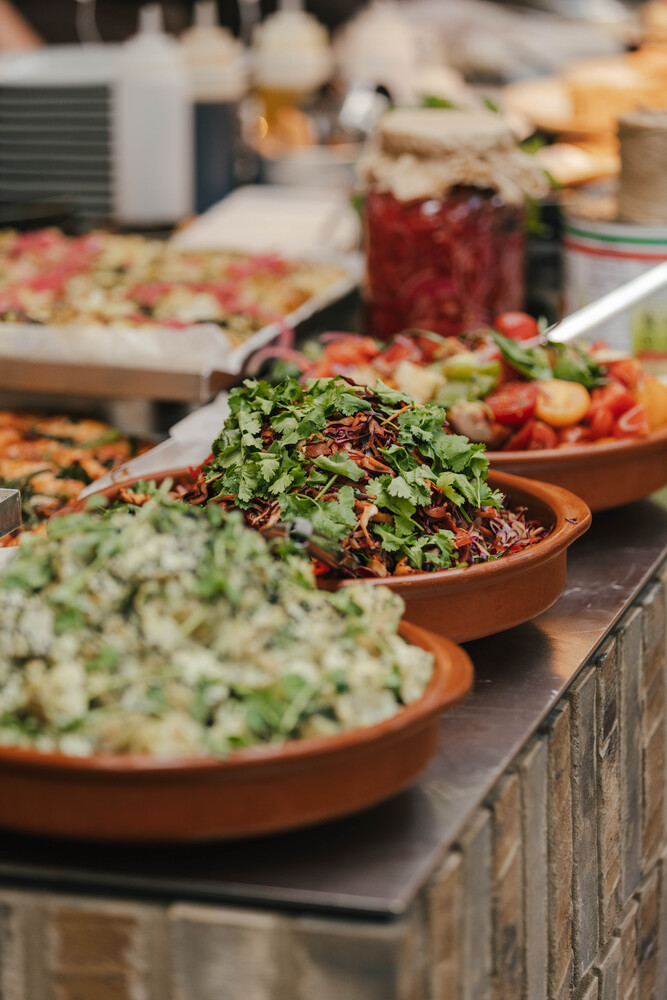 It was important to all of us that the customer could see every part of Marmadukes 3, an aspect that ties in with Clare's approach to providing ingredients from sustainable sources. Keeping the layout open reflects Marmadukes' commitment to ensuring a traceable journey from farm to table, and enables a literal interpretation of visibility.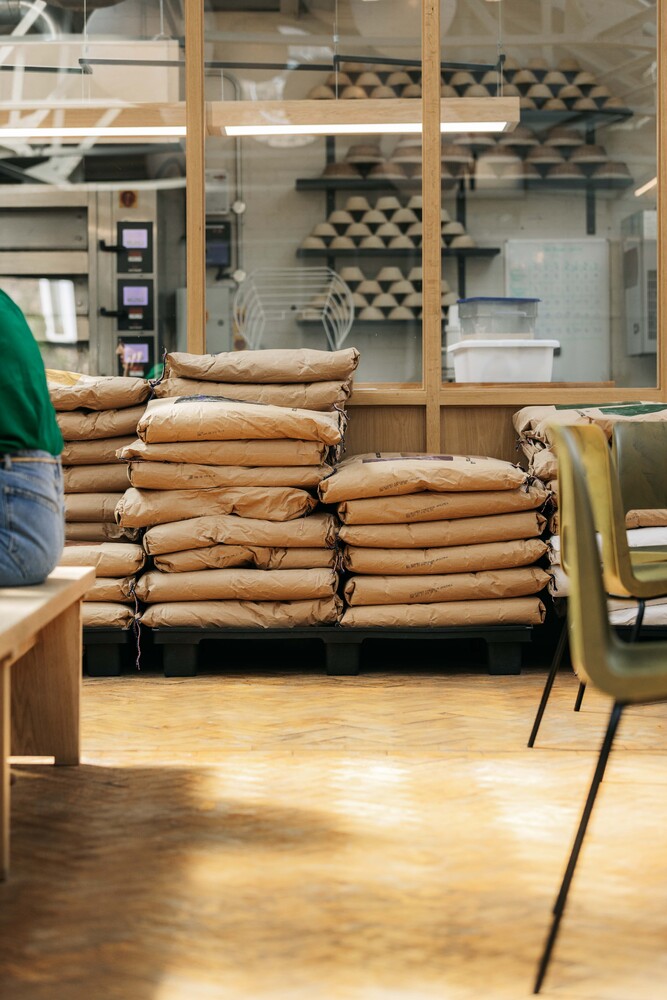 The flour bags stacked with simple, plain packaging and organic coloured labels reminding us of the soil, along with the chairs constructed from recycled nets salvaged from the Norwegian fishing industry reflect both our connection with the earth and Marmadukes' desire to do more to preserve it. 
To further this aim, Clare, Tim and the team are creating working practices around composting, wormery building, recycling, reusing and reducing waste. They believe strongly in the power of regenerative farming, and work hard to support that through their choice of local suppliers, resulting in a space where visitors can see, not just the honesty of the food but the power they have to make lasting change through their own choices.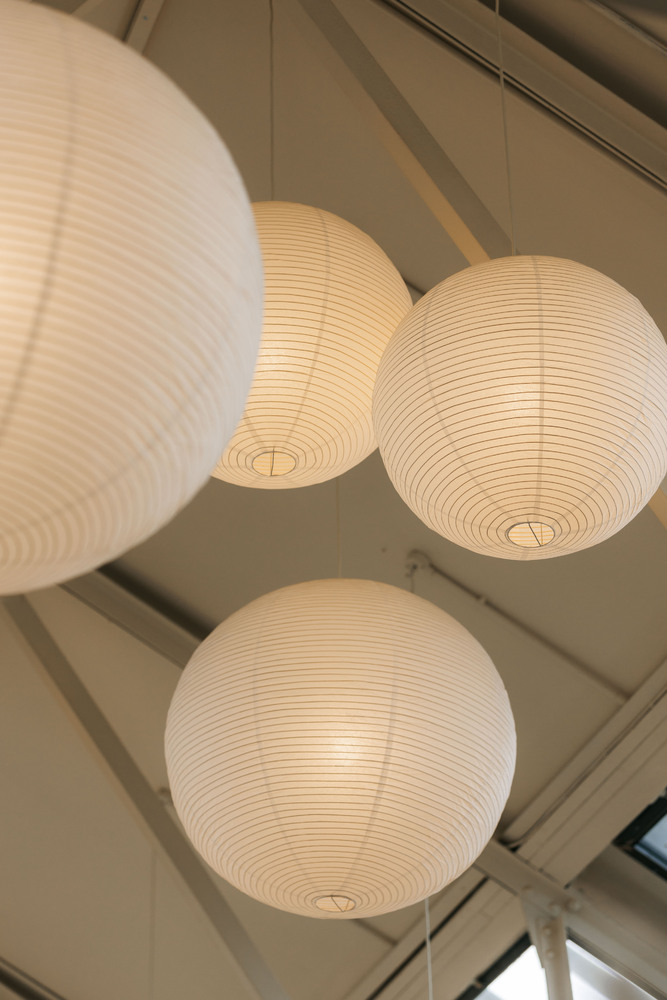 Clare and Tim believe that good food is there to be enjoyed, to spark joy, so we added fresh and fun aspects to the design, such as the bubbles in the ceiling reminding us of the open, airy structure of a perfect sourdough loaf. 
The colour palette is neutral, with warm caramel tones, lending itself to a space which feels warm and ethereal as though standing in a wheat field on a sunny day - a lovely counterpoint to some of Sheffield's greyer days. 

Bold moves with the exterior enable great service and products to take centre stage
Looking at the exterior of Marmadukes 3, you'd be forgiven for not being able to immediately tell that you're looking at Marmadukes 3!
The headline for this design was less about mindlessly furthering a brand and much more about putting the quality service, excellent coffee and bakery products where they belong - right at the forefront for customers, staff and passersby alike.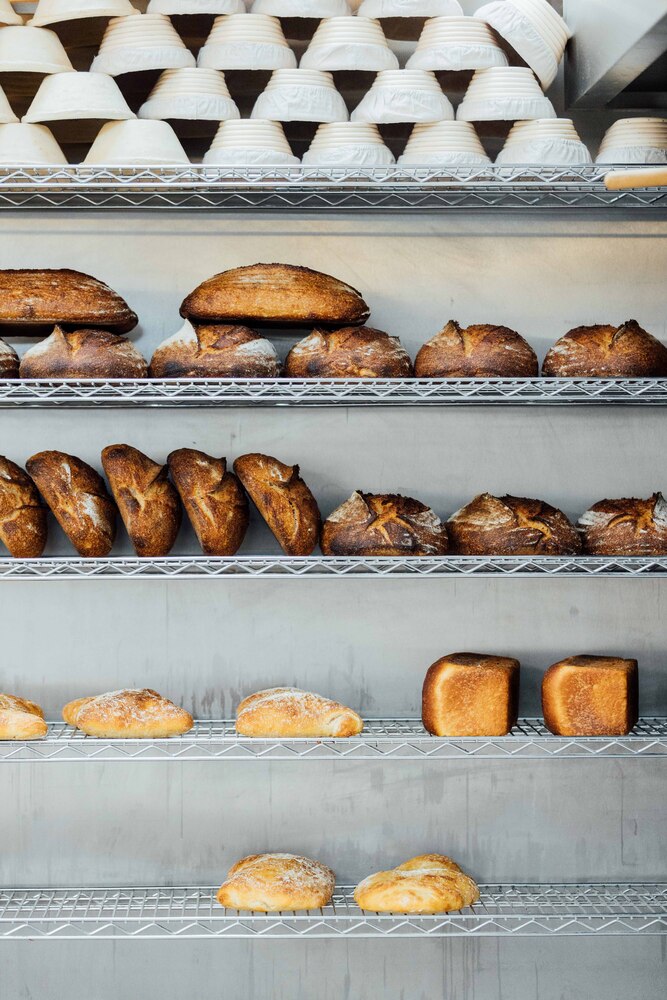 Externally the building - with its wing like roof - evokes the feeling that it's just landed from somewhere farther afield, perhaps Shoreditch or Brick Lane. We made the bold decision to paint the brick off black to emphasise the building's presence on the street, creating a welcoming feel by constructing formed concrete benches with incorporated botanical displays.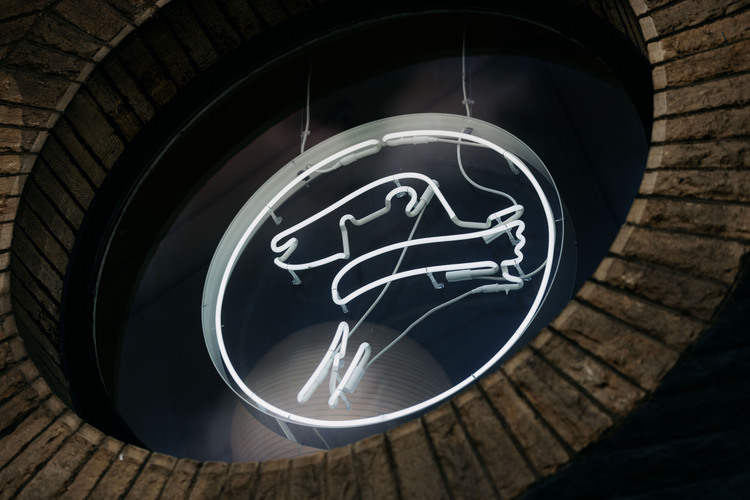 The round window was just crying out for a version of the newly developed bear-on-a-bike, a neon brother to the Cambridge Street bear. Reading the gilded, hand lettered Marmadukes name on the bakery window - you know that this place is synonymous with quality.

Designing a toilet for 2021
While hand painted signs, great lighting and an inviting bakery display are obvious design choices, many people may not think the humble loo an area deserving of much attention. 
Great design, though, means considering all the details, and Clare had always had a vision for Marmadukes 3 to have unisex toilets - something which really resonates with the current narrative. 
As the toilets were in the windowless basement, we proposed something completely unexpected - after all, who doesn't remember a good toilet? We wanted people to return to their tables and exclaim to their fellow diners "You have to check out the loo!"
The best way to describe the Marmadukes 3 toilets is: An experience. 
Think gay nightclub in Berlin at 2am. Think ultramarine blue cubicles, rainbow lights, and thumping, hardcore disco music - a trip to these toilets is unforgettable, they're almost worthy of their own social channel.
Not everyone was as enthused about our gender inclusive approach, however, and Marmadukes faced resistance from local authorities. Clare stuck to her guns, meeting with the council, contesting the decision and presenting her vision of a welcoming space for all. 
Inclusivity won, and Marmadukes 3 - including its toilets - is testament to great design and a determined vision.
"93ft have such intuition - they read what you want and blend it with their incredible expertise"
"Having worked with 93ft for a number of years and on two big projects we just feel 'at home' and in such safe hands.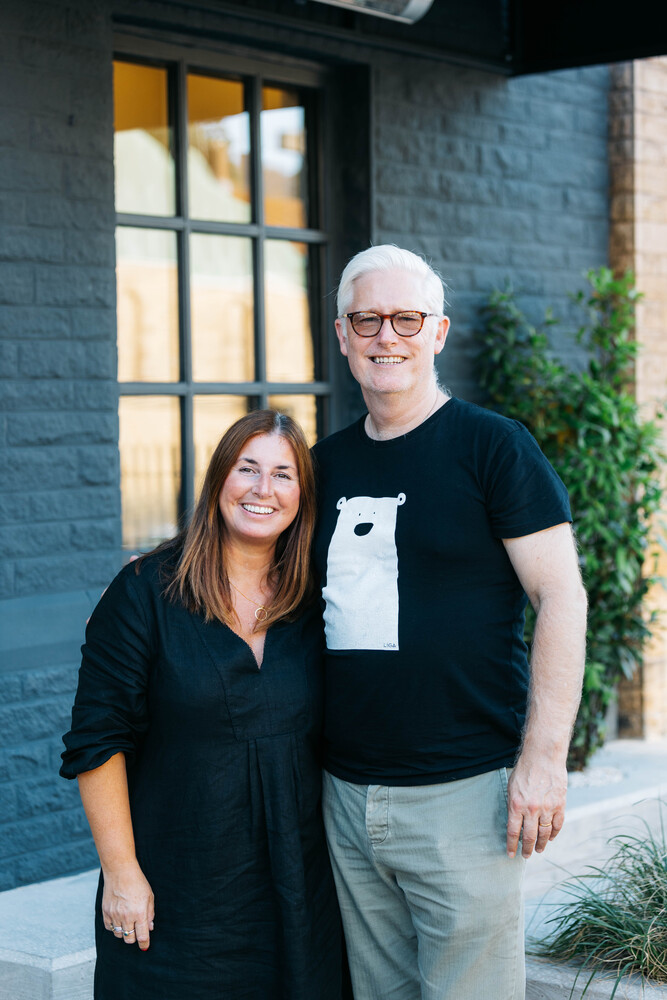 93ft could not have been more supportive when Covid hit and we faced the enormous decision of whether to carry on with such a large scale project. To manage a truly socially distanced project in such difficult times is testament to their professionalism and commitment. 
I'm not the easiest of clients as I love detail, have my own very strong ideas about a space and have to blend the desired look of the space with the customer experience and journey.
Hospitality interiors are some of the hardest to get right. Our sites are extremely busy places and yet the team understands this and all the quirks of our operation. They make time to get to know you outside the studio and literally become customers in order to really live the brand.
93ft are experts in enhancing buildings and uncovering all the beauty of old spaces. They never remove or cleanse a space of its character, they take nothing out, just enhance it, add back what should be there.They simply weave their magic over it. 
Our sorting office building is one of Sheffield's most iconic buildings so we knew they would love to bring life into it and were 100%  the best people to do that. The end result is not only working incredibly well functionally but it's simply a pleasure to be in the space. 
I cannot recommend a design agency more. If you're lucky enough to work with them you too will feel in very safe hands."
Clare Nye, Founder, Marmadukes
For design that inspires with resilience built in, get in touch
Photography - Brad Matthews