Glass Onion - Flagship store design for sustainable clothing brand
Launching a new retail store design in Sheffield for vintage clothing wholesaler and retailer Glass Onion. The store design reflects their DIY roots while providing a vintage shopping experience like no other.
South Yorkshire's vintage wholesaler turned direct-to-consumer retailer is expanding!
We've worked with Glass Onion for almost a decade now, rebranding to take them from vintage wholesalers to direct to consumer e-commerce store and working on their website design and development. 
Having already branched out onto the high street, Glass Onion were ready to expand into a more prominent position on Sheffield's trendy Division Street - a hub for students with high footfall and an area that boasts plenty of vintage shopping.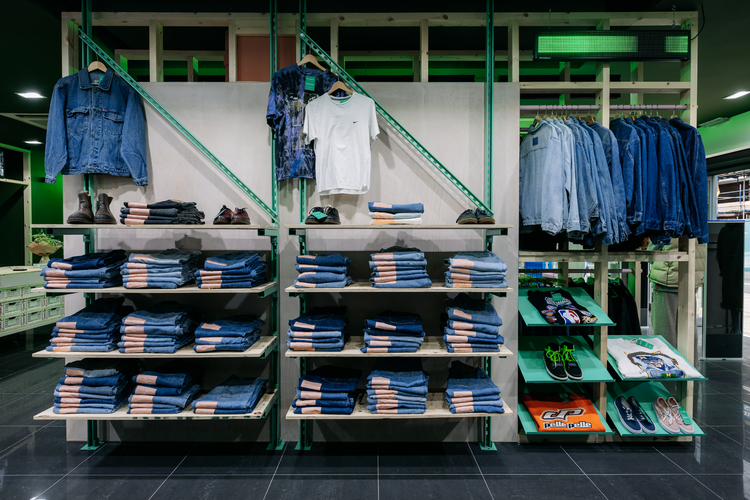 GO approached 93ft's interiors department for a full shop design that reflected the company they've grown into, providing a vintage shopping experience that felt different to the usual— less charity shop and more like a destination, fun and professional, where you want to spend time. GO had a strong vision for the shop and presented their ideas based on research conducted in London's vintage retail spaces. 93ft and GO agreed that the store needed to be elevated, a cut above the ubiquitous rails upon rails of clothing, yet still reflecting their DIY roots.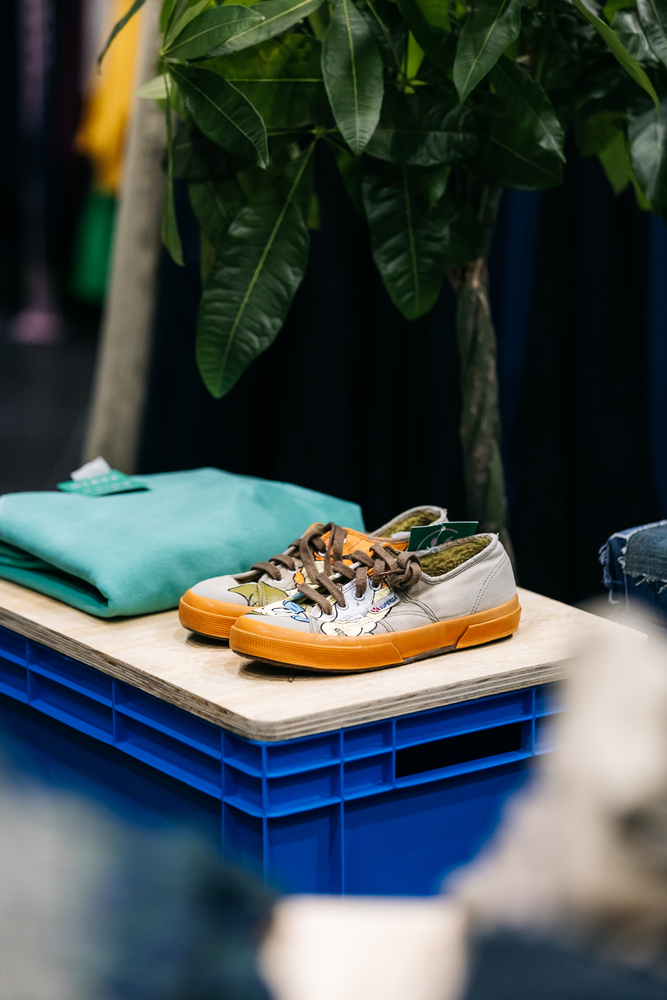 Styling Glass Onion - designing a retail space in 6 weeks
GO had a tight timeframe to work within—just six weeks as opposed to the usual several months on a project like this. We were keen to get across the Glass Onion story, bringing an urban, industrial feel to the Division St store. This worked well with our tight timescale and limited budget as the rudimentary fittings were cost effective and reflected the warehouse vibe, looking visually arresting while being utilitarian and multifunctional.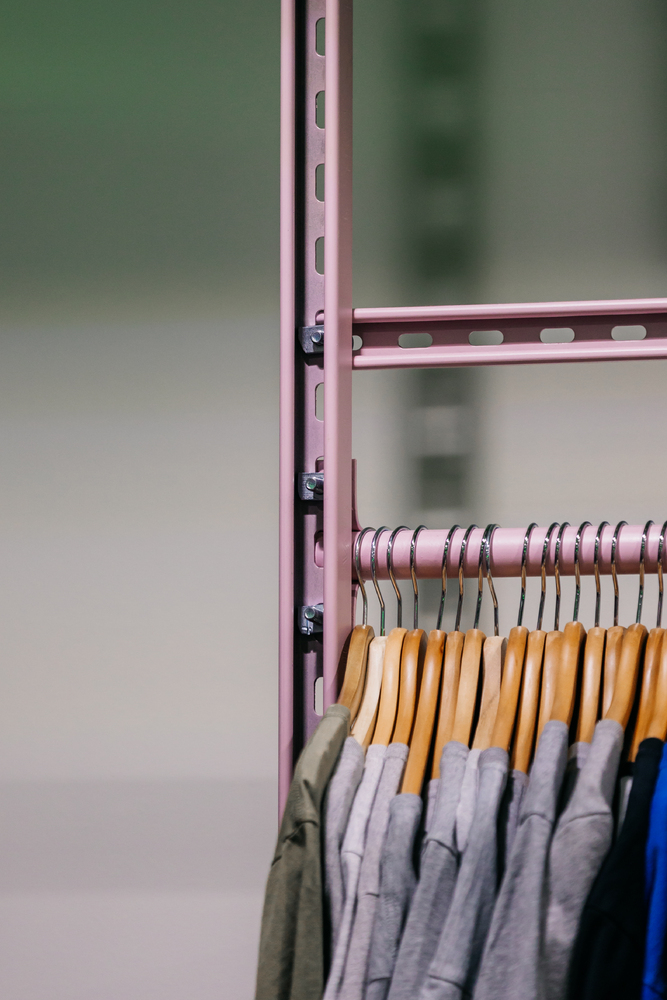 We designed clothing displays from stud wall timber more commonly used to build stud walls, adding metal piping for the rails, giving the look of a deconstructed wall. And used simple unistrut to form retail units that are flexible and can be adjusted depending on what GO wants to display. The adaptability of these units meant we were future proofing the store in the case of further expansion into larger spaces, and the metal has been powder coated in GO's brand colours for a unique feel. 
We used warehouse units, work tables and crates to make retail displays, replacing the basic timber with fresh plywood to elevate these functional and serviceable elements for the high street store. Making use of the many seamstresses in the GO warehouse, we utilised denim offcuts to make the dressing room curtains and cushions, in keeping with the no waste, secondhand ethos.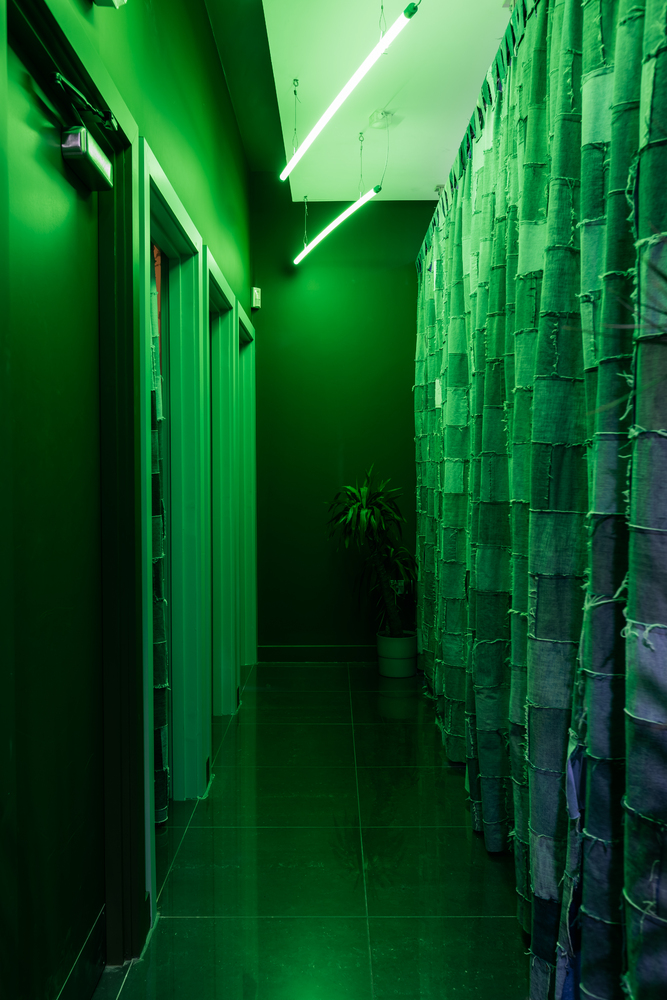 We splashed out on the counter, a high touch point that was a focus in the store, using recycled plastic top to create the counter of the till point. And around the store used digital LED tickers for signage, deals and to signpost customers to GO's website. Using digital signage was a way we could elevate the overall look and feel of the store, and means that GO can easily change its in store advertising without incurring printing costs or creating waste.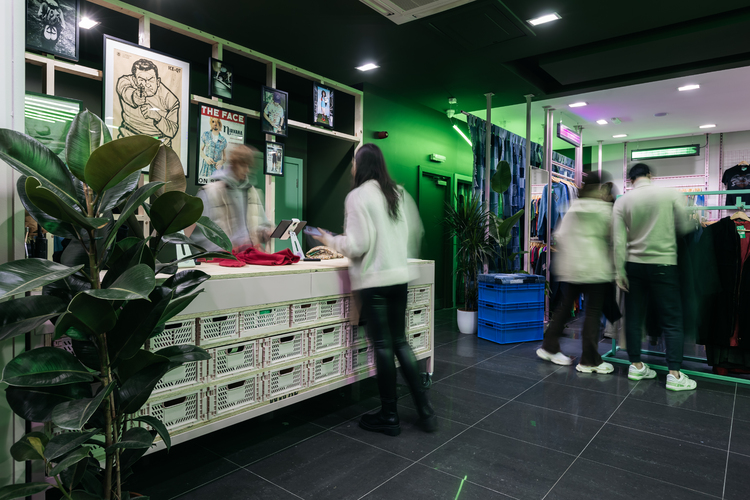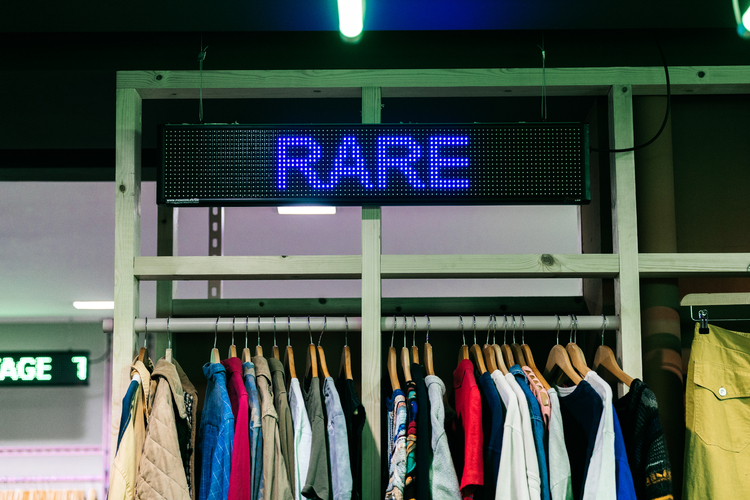 Our process - rethinking how we work to suit our clients' needs
We're always keen to work in the way that suits our clients. We adjusted our usual process which meant we could meet Glass Onion's deadlines with a comprehensive creative design.
With our usual shop designs, our interiors and architecture team come up with extensive 2D drawings before moving onto 3D modelling. After our site visit and meetings with the Glass Onion team, we skipped that stage and went straight to the 3D model of the space, reacting to make the project work for GO who needed an extremely tight turnaround. 

Glass Onion found this extremely effective and were happy to proceed with our design after a couple of tweaks during the first meeting. Working this way meant we were able to have Glass Onion more involved in the design process to create a smoother project.
We met with the contractor who would fit out the store, to understand what they needed from us for a smooth build. We presented them with as much detail as possible, giving in depth designs of the fixtures and layout so they could order, build and decorate, fitting the shop exactly as we had visualised with the client. Both the contractors and Glass Onion found our information packs so thorough that little clarification was needed, making the project run smoothly and to schedule.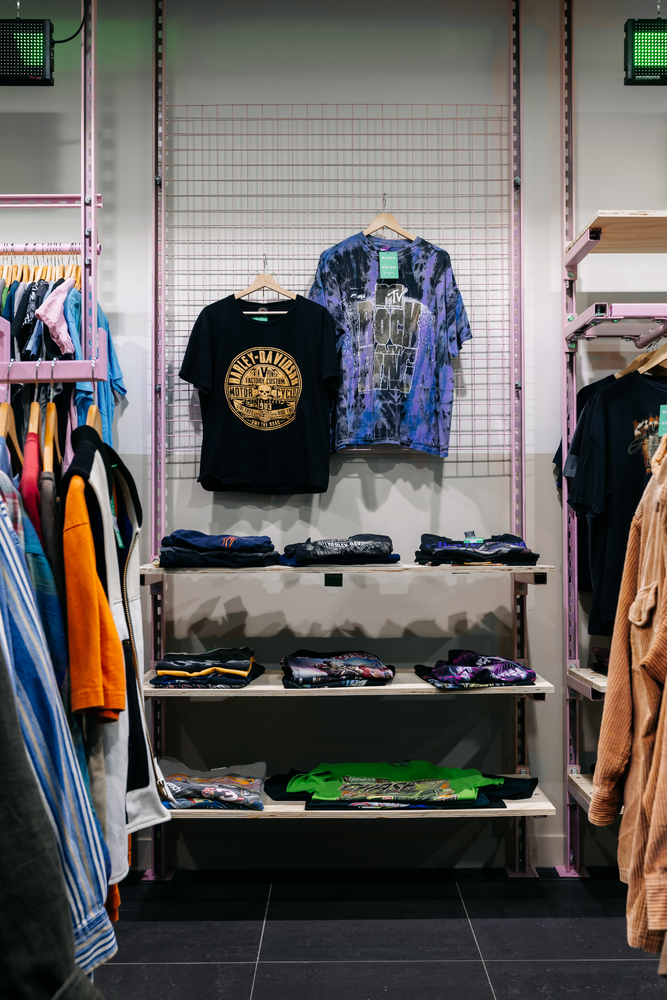 Creating a feature dressing room that's set to go viral
As well as the 3 standard dressing rooms designed by us, Glass Onion also created a feature dressing room with the intention of making a splash on social media. 
The larger, accessible changing room is designed to be an experience, coloured blood red with the words "Glass Onion" repeated on the walls, painted by artist Sean O'Connell. When the door opens, heavy metal music starts playing, creating an immersive space which is begging to be shared and has to be seen to be believed. 
Customers are already videoing their entrance to the dressing room, elevating Glass Onion's social media presence.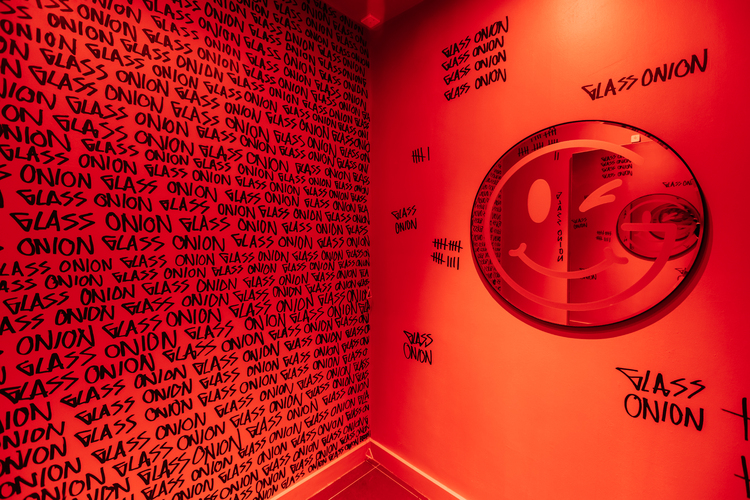 Shop design challenges - Working with what we had to create something incredible
While the overall project ran smoothly and we were successful in meeting our deadlines, most jobs hit some bumps in the road and the Glass Onion store design was no different. One of our challenges was how to approach the flooring that was already present in the space. The reflective tiles weren't what we would have chosen for GO's Division St store, however budget and time limitations meant that we were unable to change it at this point. We worked with it, integrating it into the space by adding rugs and proposing the intention to add vinyl in future. 
It was necessary to remove some internal walls during the build, which exposed the lack of flooring beneath. Rather than see this as a stumbling block, we recognised the potential for this to add to the warehouse feel of the store - it wasn't necessary for the store to look "perfect". We filled the spaces with concrete and painted it for continuity with the rest of the flooring. 

The results - round the block queues and smashing their trade goals
Comparing their previous store to this one as "night and day", Glass Onion managed to double their goals for trade in the first days of opening, with customers queuing to get in and staff scrambling to move replacement stock from their warehouse to the store. 

Have a project for us? Get in touch to see how we can help
We work with ambitious businesses on projects that push the boundaries.